Creamy Spinach with Panch Phoran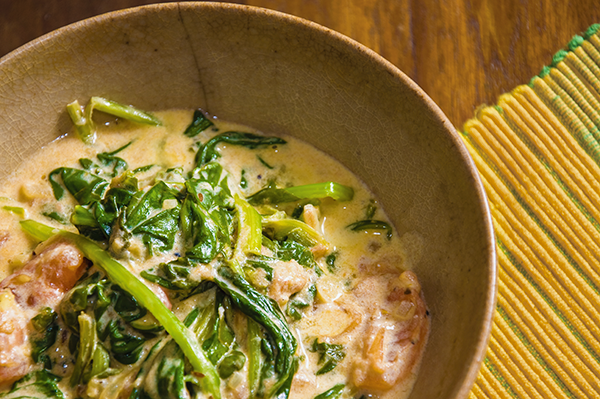 A wonderful side dish to accompany meat curries or a lentil dish. Serve as a mezze or as an hors d'oeuvre. Try replacing the spinach with Swiss chard.
Panch Phoran is the most common masala in Bengal. The blend is composed if five spices: cumin, adjwain, mustard seed, fennel and nigella. This bitter masala finds balance when roasted in hot oil until it becomes red-brown and crunchy.
Ingredients
1 lb. spinach or Swiss chard
2 Tbsp olive oil
2 tsp Panch Phoran
1 onion, chopped
2 tsp fresh ginger, chopped
1 cup peeled or canned tomatoes
1 tsp black pepper, ground
1 tsp sugar
½ cup plain yogurt
1 clove garlic, grated
Salt, to taste
2 Tbsp crème fraîche or 35% cream
Method
1

Wash the spinach. Drain well using a salad spinner.

2

In a large pot, heat the oil on medium heat and lightly roast the Panch Phoran (10-15 seconds).

3

Add the onion and ginger and sauté (5 min).

4

Add the tomatoes, salt and black pepper and cook for 5 min. Add the spinach and cook for another 5 min., stirring regularly.

5

In a bowl, whisk the sugar, yogurt, garlic, salt and cream in a bowl until very smooth (1 min).

6

Pour the yogurt mix into the pot and stir until heated through (1–2 min).

7

Transfer to a platter and serve hot as an accompaniment or at room temperature.