Creamy Tex-Mex Corn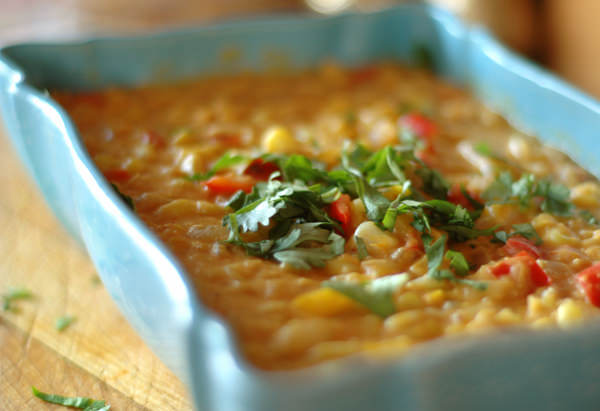 A great dish to cook corn leftovers! 
Ingredients
4 cups fresh or thawed corn kernels
½ cup light cream or milk
4 Tbsp butter
1 Spanish onion, chopped
1 red pepper, diced
1 Tbsp Tex-Mex spices, ground
1 medium tomato
Choice of garnishes: Parsley, basil, coriander or chives
Method
1

Place half the corn and the cream in a blender. Blend to a smooth purée and set aside.

2

Heat a large pan on medium heat. Add the butter, onion, spices and pepper. Cook slowly for a few minutes without browning.

3

In the meantime, cut the tomato in two and grate to extract the pulp. Discard the skin.

4

Add the tomato pulp, the remaining corn to the pan and salt to taste. Mix well and cover. Let simmer for 10 minutes on low heat.

5

Pour in the cream corn, mix well, and cook for another 2 to 3 minutes.

6

Garnish with herbs and serve.