Creole cod fish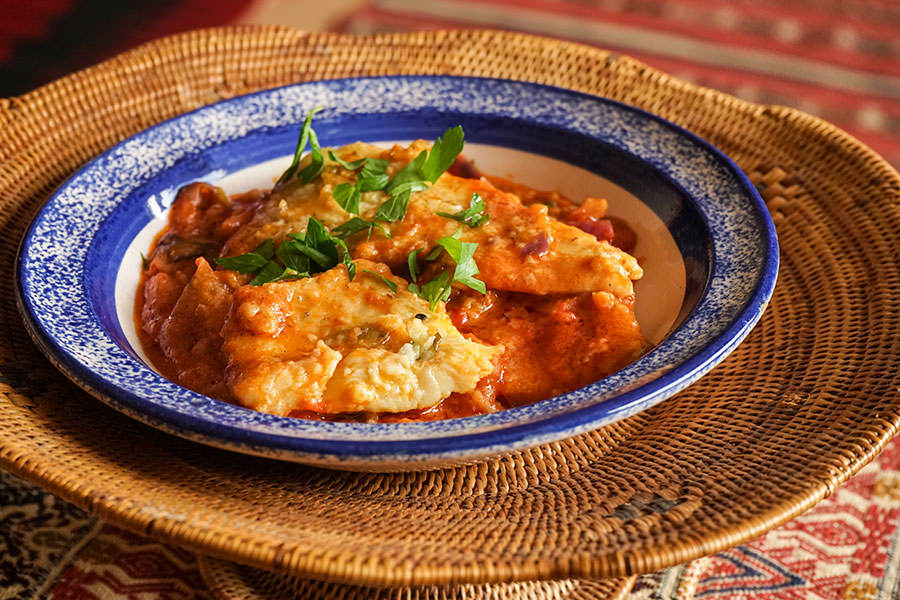 A delicious merger of tomatoes, Creole spices and fresh herbs. Chardon Béni is an herb that's not necessarily easy to find, it is however sometimes available in West-Indian groceries or in Asian supermarkets, where it is called ngo gai.
Ingredients
6 desalted, dry pieces of Cod (about 1 kg)
1 cup flour (approximately)
6 Tbsp coconut oil
3 Tbsp olive oil
1 Tbsp brown sugar
6 peeled tomatoes, finely chopped
Marinade
6 garlic cloves, slivered
3 slices ginger, slivered
12 spring onions, slivered
1 small glass of rum
Juice of 2 limes or Seville oranges
1 Tbsp Creole spice blend, ground
1 tsp thyme
2 Tbsp chardon béni or 4 Tbsp fresh coriander
¼ cup olive oil
Black pepper, to taste
2 tsp Angostura
Method
1

Mix all marinade ingredients together and marinate the fish for 2 hours.

2

Remove the fish from the marinade. Strain the marinade and set aside the separated ingredients from the liquid.

3

Sponge and flour the fish.

4

Heat the coconut oil and fry the fish on both sides, until half cooked and golden.

5

Remove from the heat, discard the cooking oil.

6

Add olive oil and sugar.

7

Caramelize the sugar. Add the saved ingredients from the marinade. Cook for 5 minutes.

8

Add tomatoes and the saved marinade liquid. Cook for another 2 minutes.

9

Return the fish and let steam until cooked. Serve hot.