Creole Corn Chowder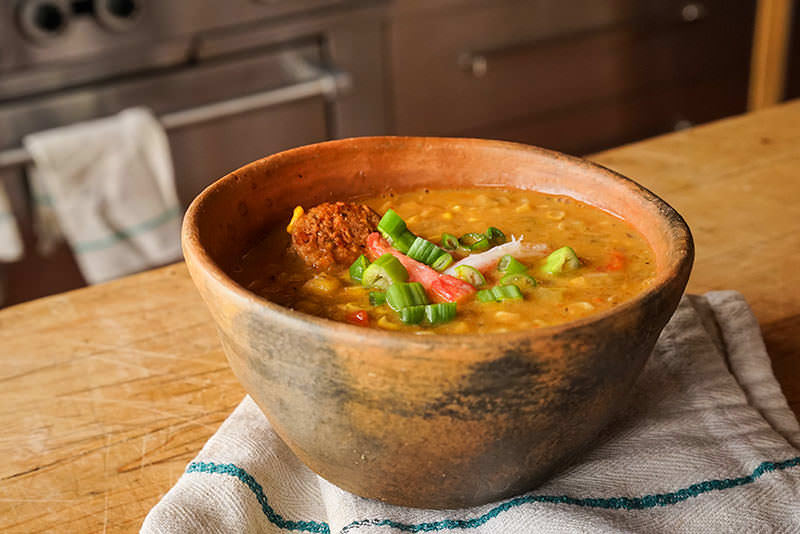 This thick and creamy soup is a meal in itself. Inspired by the cuisine of New Orleans, it includes crab meat and Italian sausage.
Ingredients
1 or 2 Italian sausages
2 Tbsp olive oil
4 Tbsp butter
2 onions, diced small
3 stalks celery, diced small
1 red bell pepper, diced small
1 green bell pepper
1 jalapeño, diced small
1 pack green onions
2 Tbsp Cajun spices, ground
1 bay leaf
2 tomatoes, chopped
6 cloves garlic, minced
4 cups corn kernels
6 cups chicken stock
Salt, to taste
1 cup crab meat
4 Tbsp thick cream
4 Tbsp butter, cold
Method
1

In a large pot, brown the sausage in olive oil over low heat. Set aside once they're cooked.

2

Add the butter, onion, celery, peppers, and Jalapeño and cook over medium heat for about 12 minutes.

3

Chop the green onions. Add the white to the pot and set the green aside. Add the spices and bay leaf.

4

Add the tomato, garlic, and 2/3 of the corn. Slice the sausage into rounds and add, along with the chicken stock.

5

Meanwhile, purée the remaining 1/3 of the corn in a blender. Add a little water if needed.

6

Add the corn purée, crab meat, and cream to the pot. Bring to a boil.

7

Add the butter and stir well. Taste to adjust seasoning.

8

Serve garnished with the chopped onion greens.