Creole Crostinis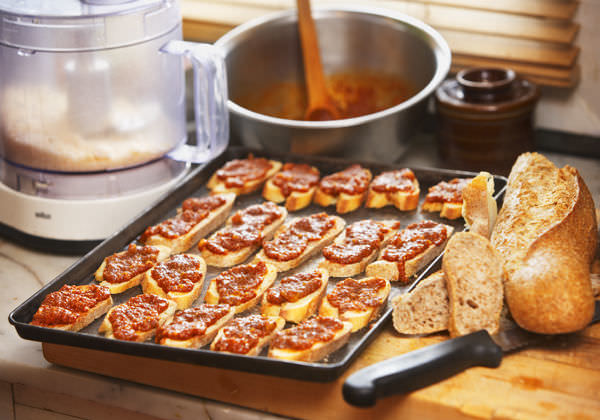 A recipe that marries Creole and Italian cuisine from "The Big Easy," New Orleans. Excellent as an appetizer  or served on cauliflower, as a crust on chicken breasts or lamb chops, or on a stale baguette.
Dry garlic and onion are probably the two greatest ingredients America has contributed to the world of spices. As with most dried spices, these flavors complement different dishes than their fresh counterparts. Dry garlic is bitter. Dry onion is sweet. These make the perfect pair for blends. As always, it is better to use whole spices (in grains and flakes) and to grind them together just before cooking than to use conventional pre-ground spices.
Method
1

Preheat the oven  at 325°F.

2

Slice the bread in ¼" slices. Arrange on a baking sheet.

3

Mix all remaining ingredients in a bowl into a paste.

4

Spread the paste generously on each slice of bread.

5

Bake in the oven until the crostinis are dry and the paste well cooked (12-15 min.)

6

Serve hot or at room temperature.