Creole Fettuccini with Seafood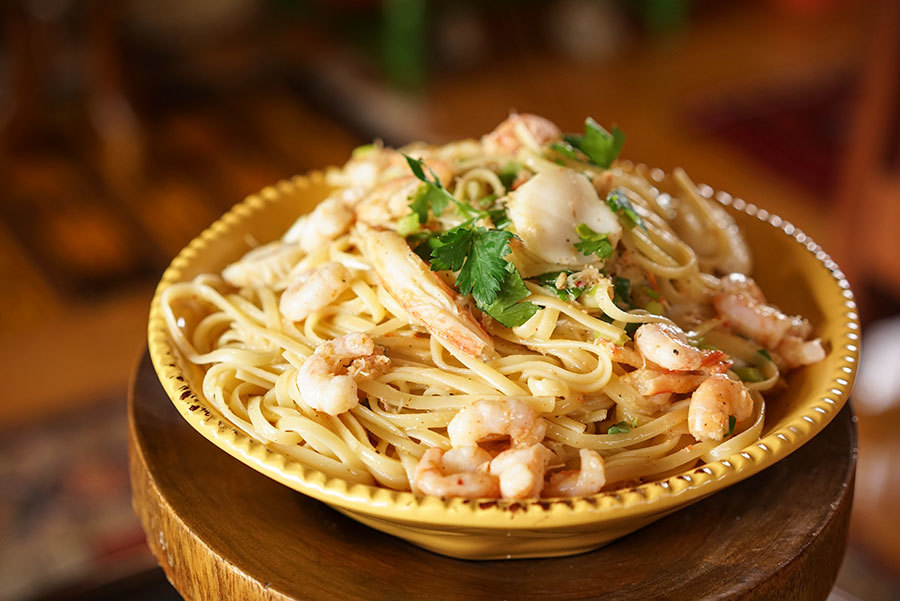 A great demonstration of the versatility of Cajun spices, which are simply boiled in this case. In this recipe, the spices have a linking effect and help stabilize the emulsion and thicken the sauce.
Ingredients
½ lb (250g) shrimp, deveined
½ lb (250g) dry fettuccine
1 tsp Cajun spices, ground
¼ tsp white pepper, ground
¼ tsp oregano
¼ tsp garlic powder
1 tsp lemon juice
¼ lb (125g) unsalted butter, cold
3 cloves garlic, chopped
½ bunch scallions, sliced fine
½ cup crab meat or fresh scallops
Fish Stock (fumet)
Shrimp peels
1 small onion, chopped
1 clove garlic, chopped
1 stick celery, chopped
1 cup white wine
Method
1

Put all the fish stock ingredients in a pot with 2 cups of water. Bring to a boil, turn down the heat, and let simmer for 30 minutes, uncovered. Strain and reserve.

2

Put the fettuccine in a pot with salted boiling water to cook.

3

Meanwhile, put a large pot on high heat. Add 1½ cups of the fish stock, Cajun spices, pepper, oregano, garlic, and lemon juice.

4

Bring to a boil, add the cold butter in large cubes, shrimp, garlic and green onions.

5

Stir without stopping until the butter is melted and the sauce becomes creamy.

6

Add the remaining seafood and heat (1-2 minutes).

7

Make sure the pasta is fully cooked. Just before it is cooked, drain them and add to the sauce. Mix well, cook one minute, and serve immediately.