Creole Marinade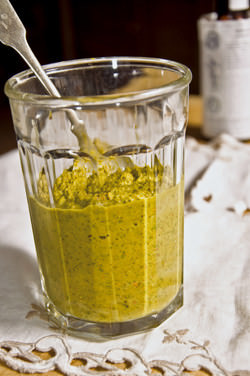 In the West Indies, it is unthinkable to cook poultry, fish or meat without first marinating it. This marinade is great with white meat, but you can also add some to your favourite curry to give it a Carribean flavour.
Ingredients
5 Tbsp Creole Spice blend, ground
2 onions
1 bunch of green onions
8 garlic cloves
1 inch of ginger
8 leaves shadow bene* or ½ cup cilantro
2 Tbsp Angostura bitters (optional)
½ cup lime juice or white vinegar
2 tsp salt
3 Tbsp olive oil
¼ cup dark rum (optional)

*Shadow Bene or Ngo Gaï can be found in Vietnamese grocery stores.
Method
1

Place all ingredients in a food processor and grind to a fine purée.

2

Put contents of the food processor in a jar. This marinade will keep for several weeks in the refrigerator and also freezes well.