Creole Sofrito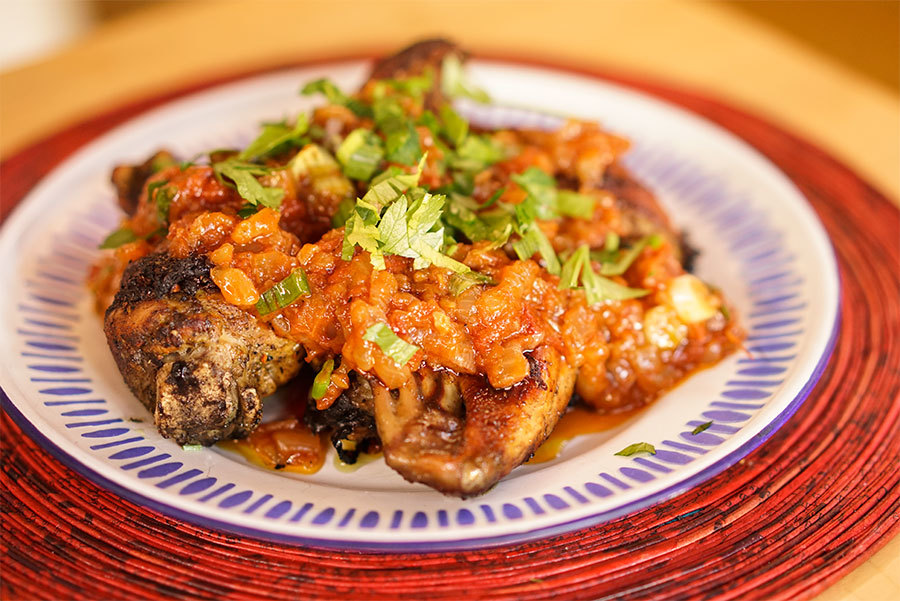 Sofritos are dishes composed of vegetables and aromatics than are slow-cooked in oil, or sofreir. Sofritos can be served like a side sauce or make the base for a Creole dish with vegetables, seafood, or meat.
Ingredients
8 very ripe Roma tomatoes
½ cup olive oil or lard or duck fat
3 onions, chopped
4 cloves garlic, chopped
1 Tbsp ginger, chopped
1 habanero or other chile, chopped
1 tsp salt
Pepper to taste
1 lime
6 scallions, chopped
Parsley or cilantro
Method
1

Blanch tomatoes in boiling water for 1 minute. Cool in cold water and peel. Cut in half and squeeze out seeds. Chop tomato flesh into small pieces. 

2

Pour olive oil and onion into a pot. Put heat on low and sofreír for 20 minutes without coloring onions. Incorporate garlic, ginger, and chile; continue cooking for 12 minutes. 

3

Add the tomatoes. Salt and pepper to taste and cook until they begin to render water.  Increase heat to medium and cook gently, stirring on occasion. 

4

When the oil comes back out of the tomatoes, and they begin to dry up and change color (between 30 minutes and 1 hour), reduce heat to medium-low, add shallots, and cool 10 minutes more. 

5

Incorporate lime juice, add a splash of olive oil and garnish with chopped parsley.