Crepes stuffed with Ham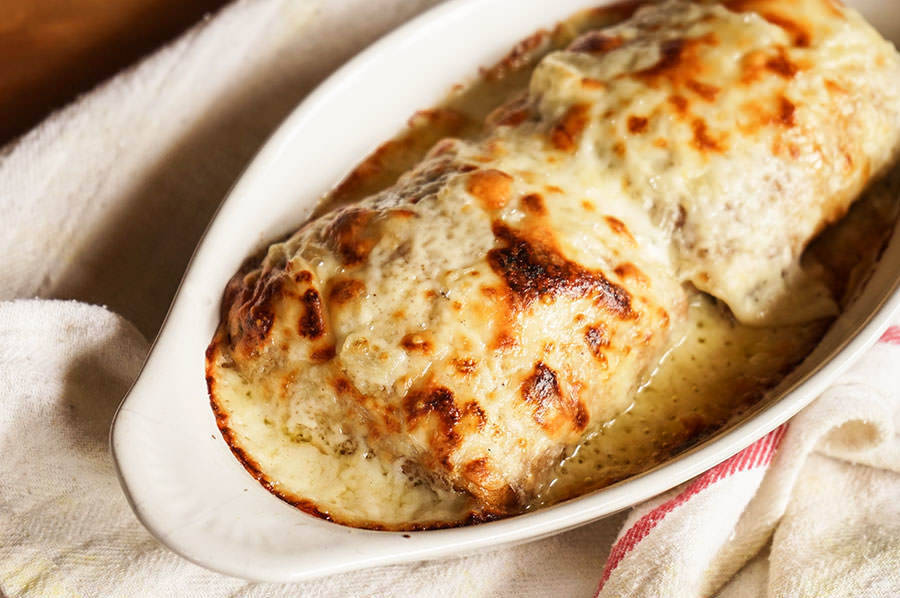 These stuffed crepes make a plentiful dish, great with a side salad. They're perfect for brunch.
Ingredients
8 crêpes (around 8 inches in diameter)
1 cup grated cheese
Béchamel
1 onion, minced
¼ cup butter
¼ cup flour
2½ cups milk
Nutmeg, grated, to taste
Salt and pepper, to taste
Stuffing
1-2 Tbsp olive oil
1 leek, sliced thin
2 cups ham, diced
1 Tbsp Quebec Herb Blend
Salt and pepper
Method
1

To make the béchamel, sauté the onions in butter on medium-high heat.

2

When the onions are golden, add the flour and cook one more minute, stirring constantly.

3

Add milk, nutmeg, salt and pepper. Continue cooking, stirring regularly, until the béchamel is thick. Set aside.

4

Heat another pot on medium-high. Sweat the leeks in olive oil for 2-3 minutes.

5

Add ham, herbs, salt, pepper and spices. Sauté 3 more minutes.

6

Divide stuffing equally among the 8 crepes. Add 1 Tbsp of béchamel to each crepe, then wrap around the stuffing to form a bundle.

7

Place the crepe bundles on an oven-proof dish and cover with remaining béchamel.

8

Add cheese and bake in the oven for around 30 minutes.