Crispy Leek and Lamb Dumplings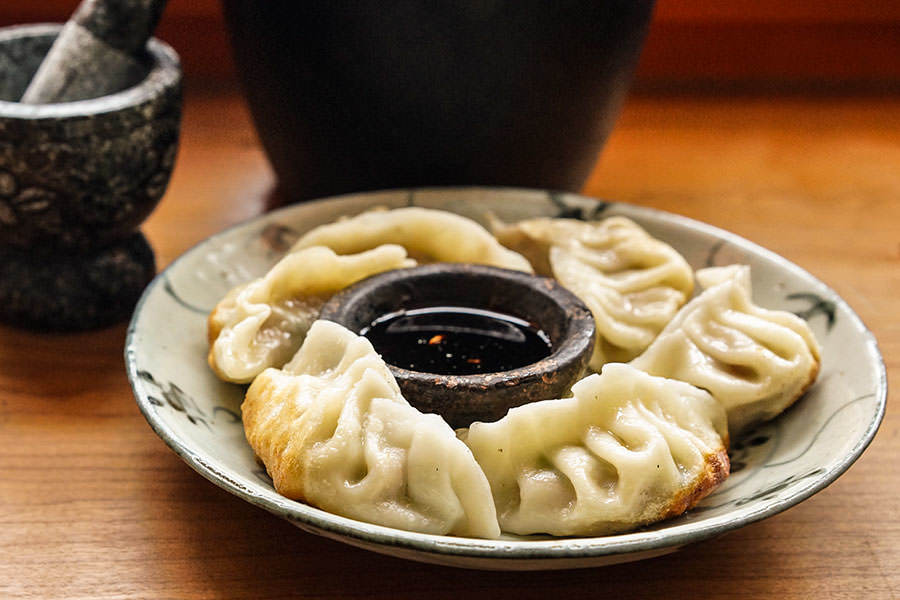 This recipe is one of a multitude of possible variations of Chinese dumplings. The Silk Road spice blend, an ancient mix of Chinese, Indian and Persian spices, gives these pot stickers a delicious and flowery flavour.
Ingredients
½ lbs ground lamb or ground veal
½ cup finely sliced leeks
2 tsp Silk Road Blend, ground
1 Tbsp light color soya sauce
1 tsp roasted sesame oil
1 tsp salt
Ground black pepper, to taste
2 tsp sugar
1 tbsp cornstarch
2 tbsp cold water
24–30 Chinese dumpling wrappers (wor tip)
Dip
Method
1

In a bowl, place all of the dumpling ingredients (not the wrappers). With a fork, mix ingredients well (2-3 min.)

2

On the wrappers, place some stuffing. Moisten the edges with a few drops of water. Fold and seal the dumplings.

3

Brush a large frying pan with vegetable oil and place the dumplings in the pan.


4

Barely cover the dumplings with water and bring to a boil. Cover with a lid, reduce heat and cook until all the water has evaporated (8–10 minutes).


5

Remove the lid and cook until the bottom of the dumplings are brown and crispy (2–3 minutes).


6

In a small bowl, combine the ingredients of the dip.

7

Serve at once with the dip.