Turkey Breast ''en croute''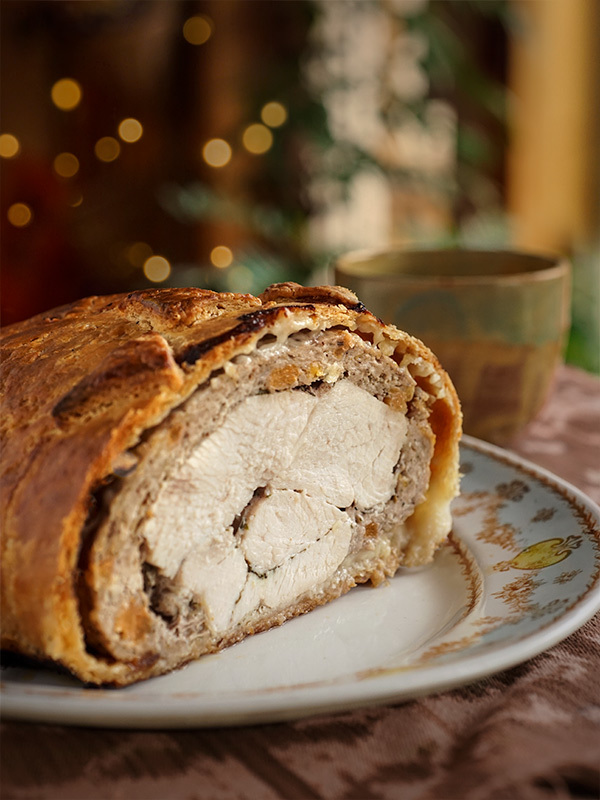 A dish that's full of Holiday cheer which is easily be served as a main course for a dozen or so guests. Serve with a demi-glace sauce (or another sauce of your choice) and cranberry chutney.
Method
1

Chop apricots into ¼ inch dice. Place in a bowl and barely cover with hot water. Let infuse for 10 minutes then drain.





2

Place pork, salt, pepper, tourtière spices, onion and apricots in a large bowl. Knead by hand for 3-4 minutes. Cover and let rest a few hours refrigerated, or better, overnight.





3

Heat oven to 375 °F.





4

Cut a piece of turkey breast lengthwise to equalize the shape of the breast. Season with Quebec Herb blend, salt and pepper. Set aside.





5

Place minced pork between 2 sheets of parchment paper. Flatten meat with a rolling pin to make it uniform and rectangular, measuring 12 inches X 15 inches.





6

Roll the floured crust into a rectangle, a little larger than the pork.





7

Line a baking sheet. Place the rolled crust on the baking sheet. Tilt the pork rectangle onto the crust.





8

Place turkey on the pork making a cylinder as uniform as possible.





9

Beat egg in a small bowl with 2 Tbsp water.





10

Brush the edges of the crust with egg mixture. Fold the two lengths of the crust so they stick together. Brush the ends of the crust and fold under, sealing well.





11

Flip the cylinder so that the joints are underneath. Let rest refrigerated several hours, if desired.

Brush crust with egg mixture and make little entrails on top, allowing steam to release during cooking.





12

Cook in the center of the oven. Reduce the temperature to 325 °F and cook for another hour, until the internal temperature reaches 165 °F.





13

Remove from the oven and let rest for 30 minutes on the stove before carving.