Pomegranate Duck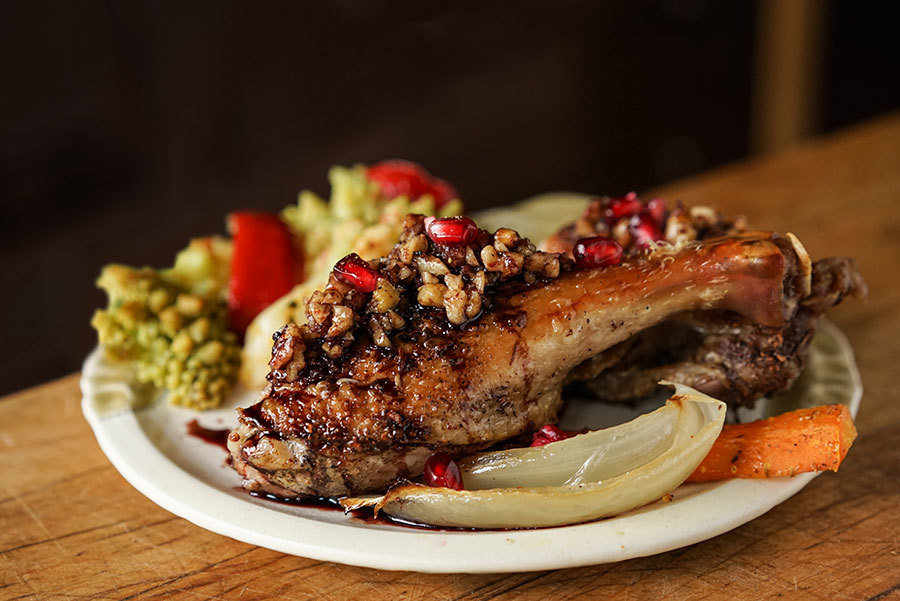 The best part about cooking vegetables with duck is they will confit in the duck fat during cooking.
Ingredients
4 duck legs
1 tsp cinnamon, ground
1 Tbsp black pepper, cracked
2 tsp salt
4 medium onions
8 medium carrots
6 cloves garlic, skin-on
1 cup red wine
¼ cup pomegranate molasses
½ cup walnuts, chopped
½ cup pomegranate seeds
½ tsp Garam Masala, ground (opt.)
Method
1

Remove any excess fat from the duck with a small, sharp knife. Wash duck in cold water. Dry thoroughly with a paper towel. Preheat oven to 325°F.

2

Rub duck with cinnamon, pepper and salt. Place the legs on a roasting tray, spaced so they do not touch. Slice onions into six pieces and place on the tray with carrots and garlic.

3

Roast for around 1½ hours.

4

Remove roasting tray from oven. Pour duck fat in a bowl and reserve for another use. Place duck pieces and vegetables on a platter.

5

Put baking tray on the stove over medium heat. Add red wine and pomegranate molasses. Stir well. Deglaze the pan by scraping it with a spatula and reducing the juice a little.

6

Pour the sauce on the duck and vegetables. Sprinkle on the Garam Masala and remaining nuts and pomegranate seeds.