Chicken Legs with Carrots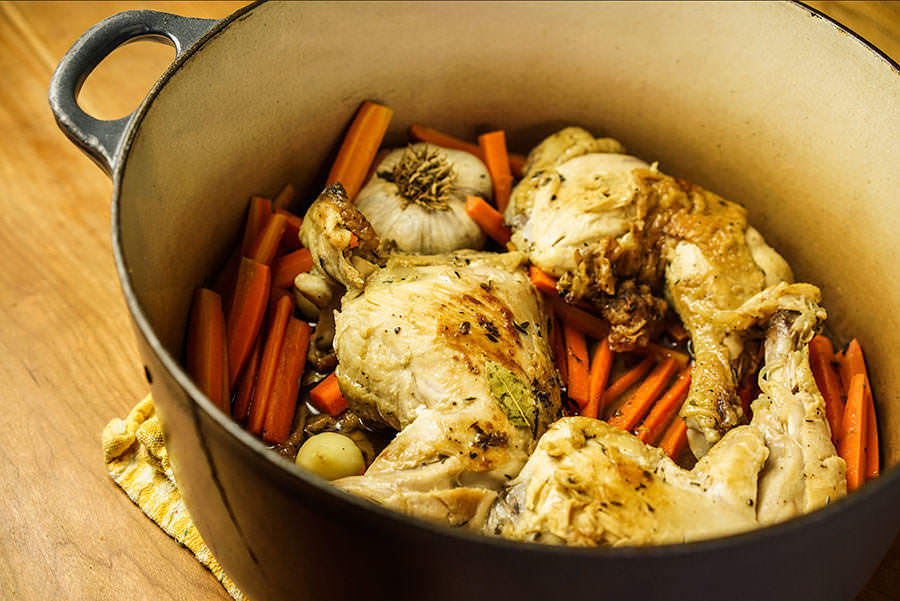 A simple chicken dish that we like to serve with mustard, perfect for family meals. We recommend using carrots, but it's good with most root vegetables.
Ingredients
4 tsp salt
1 Tbsp black pepper, cracked
1 tsp sage
1 tsp thyme
4 chicken legs
2 Tbsp coconut oil
4 heads garlic
4 large carrots
Method
1

Mix salt and spices. Rub on chicken legs.

2

Choose a large pan that a cover or plate can fit on top of. Place oil and chicken, skin-side down, in the pan. Place pan on medium-low heat and cover.

3

Cook for 10 minutes (the chicken fat should start to melt). Flip the chicken legs. Slice off the top of garlic heads and place around the chicken with bay leaves. Return cover to the pan, slightly ajar and cook 10 minutes more.

4

Peel carrots and chop into 3-inch sections. Flip chicken and disperse carrots around it, ensuring each piece makes contact with the bottom of the pan. Cover and cook a few minutes more. Flip chicken and carrots and cook for 10 additional minutes.

5

Remove chicken, carrots and garlic from the pan to ensure they don't absorb too much fat.