Cumin Grilled Pears with Stilton and Caramelized Pecans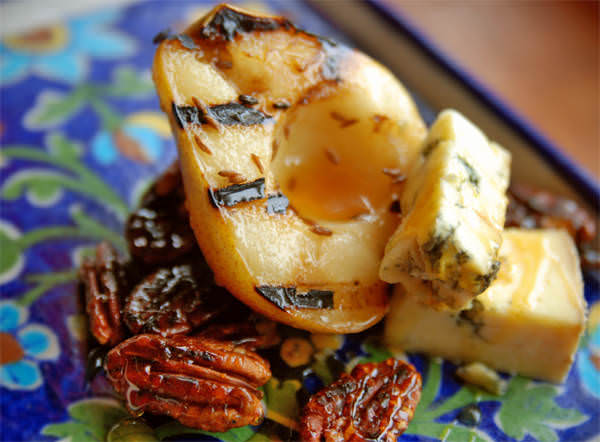 Chez nous, cumin goes in practically everything – even desserts. This surprising combination of ripe pears, nuts and cumin is always a pleaser.
Grilled pears
3 firm pears
3 tsp cumin, seeds
1 tsp oil
2 tbsp honey
6 wedges of Stilton
caramelized pecans (recipe below)
honey
Caramelized pecans
Grilled pears - Method
1

Cut pears in two and remove core.

2

Brush pears with oil and sprinkle cumin on them.

3

On a barbeque, grill the pears until nearly done (3-4 min.)

4

Brush honey on pear and grill 2 minutes more.

5

Serve hot with Stilton, pecans and honey.
Caramelized pecans - Method
1

On the stove, heat a non-stick pan on medium-high heat. Add pecans and stir with a wooden spoon until nearly toasted.

2

Add sugar and stir until caramelized.

3

Pour on oiled bake sheet. Set aside