Curry Falafel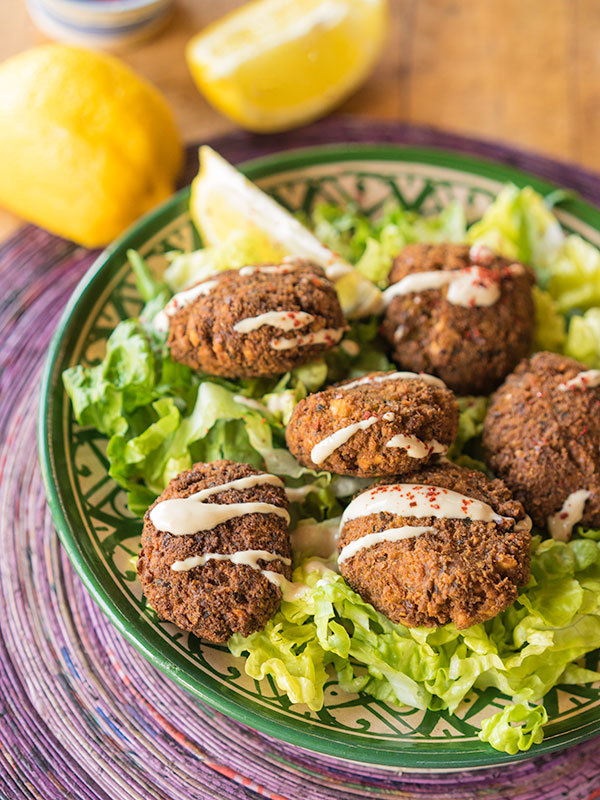 Most falafel recipes have some combination of cumin, coriander, pepper, and chilies (along with other spices too). We've decided to revisit this classic recipe by adding a South Indian curry blend. It works great! 
Serve with a taratur sauce or lemon raita.
Ingredients
1 lb dried chick peas
1 medium onion
1 clove garlic
½ cup parsley, chopped
2 tsp salt
2 Tbsp Chettinad curry
1 Tbsp dried garlic
1 heaping Tbsp flour
Oil for frying
Method
1

Rinse chick peas and place in a large container. Cover generously with water (keeping in mind that they'll double in volume). Let rest overnight.

2

The next day, drain and rinse the chick peas. Drain in a colander.


3

Place onion, fresh garlic, parsley, salt, ground curry and dried garlic in a food processor. Grind for 2 minutes.

4

Add chick peas and flour and reduce to a rough purée. You may need to stop and stir the mixture with a spoon from time to time.

5

Transfer to a bowl and chill for 1-2 hours.

6

Pour 2 inches of oil into a pot and heat to 350° F.

7

Form falafel batter into flattened balls 1 ½ inches in diameter and fry a dozen at a time. Stir them once or twice during cooking, which should take 4-5 minutes each batch. Place on a paper towel and repeat until all the falafel are cooked.