Curry Mussels, Belgian Style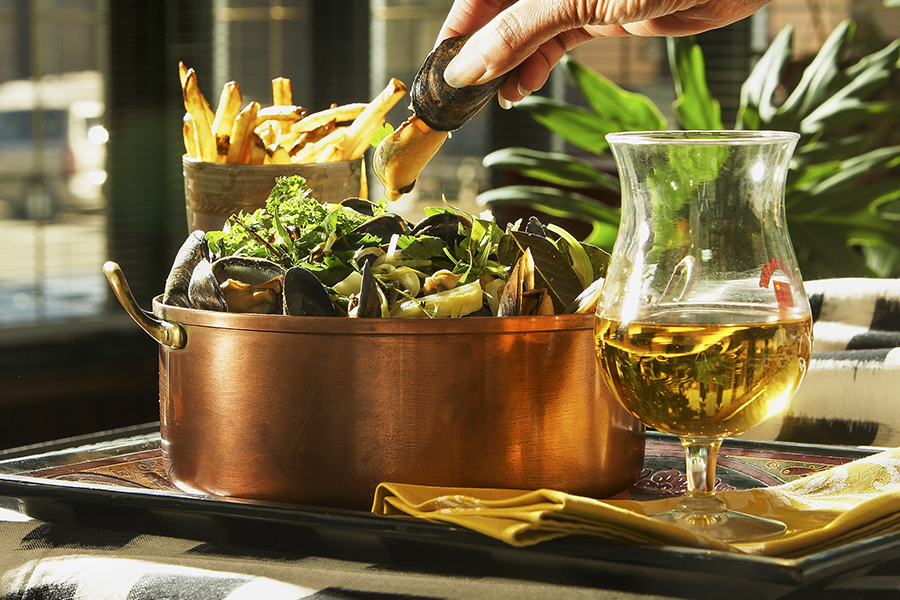 Curry mussels is a common sight in French and Belgian mussel restaurants. Its longtime popularity is proof of the ingenuity of this marriage of flavors.
Ingredients
2 lbs mussels
3 Tbsp butter
½ cup onions
½ cup carrots
½ cup leeks
½ cup fennel
¼ cup celery
1 sprig thyme
1 Tbsp ground Madras curry or curry powder
½ tsp black pepper, ground
1 pinch nutmeg, grated
6 oz blonde ale
½ cup thick cream
¼ cup parsley, tarragon, and chervil, chopped
Method
1

Wash mussels well in water. Throw any opened mussels away.

2

Julienne vegetables. Heat a large pot on high and melt butter. Sauté the vegetables, bay leaves and thyme for a few minutes.

3

When the vegetables begin to fall apart, add curry, pepper, nutmeg, mussels, beer and cream. Stir well and cover.


4

Once steam escapes from the pot (4-6 min), stir mussels well. If they didn't open, cover and steam for 2 minutes more.

5

Garnish with chopped herbs and serve hot, with bread or fries.