Dandan Mian - Long Pole Noodles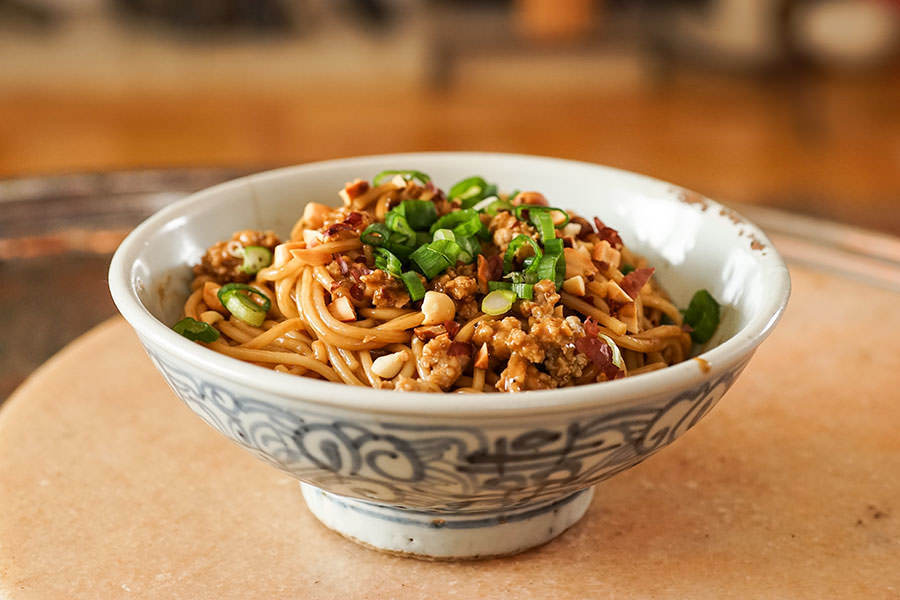 The Sichuan street food classic. It was once served from two baskets hanging on a pole, one with the noodles and one with the sauce and garnish. Keep this in mind when preparing them- the sauce and topping can be made ahead of time and tossed on the hot noodles for a quick lunch or afternoon snack.
Ingredients
Handful (about 250 g) Dandan noodles or any Chinese wheat noodle
Sauce
1 ½ Tbsp Chinese sesame paste or tahini
1 Tbsp light soy sauce
1 Tbsp dark soy sauce
2 tsp black vinegar
2 Tbsp oil (preferably chili oil)
1 tsp Sichuan Red pepper or Sichuan Green Pepper, ground
Meat topping
oil
3 dried chilies
100 g ground pork
3 Tbsp zha cai (preserved mustard stems) or 2 Tbsp Tianjin Preserved Vegetable
1 tsp yellow wine
1 tsp soy sauce
salt
Garnish
1 green onion, sliced thin
¼ cup peanuts, chopped (opt.)
1 Tbsp sesame seeds (opt.)
1 tsp fried garlic (opt.)
Method
1

In a bowl, combine all the sauce ingredients and stir well. Set aside.

2

Add the noodles to a pot of boiling water.

3

While the noodles are cooking, add oil to a wok on high heat. Add the chilies and fry for a few seconds. Add the ground pork and, breaking it apart with a spatula, cook until slightly brown.

4

Add the pickled vegetables and stir. Add the yellow wine, soy sauce and salt. Simmer for a few seconds until most of the liquid is evaporated.

5

Drain the noodles into a colander, reserving some of the pasta water for the sauce.

6

Put the noodles in a bowl, add the sauce and some pasta water, then toss until the noodles are well coated.

7

Divide the sauced noodles into bowls, and top each bowl with the pork mixture, sliced green onions, and whatever else seems nice.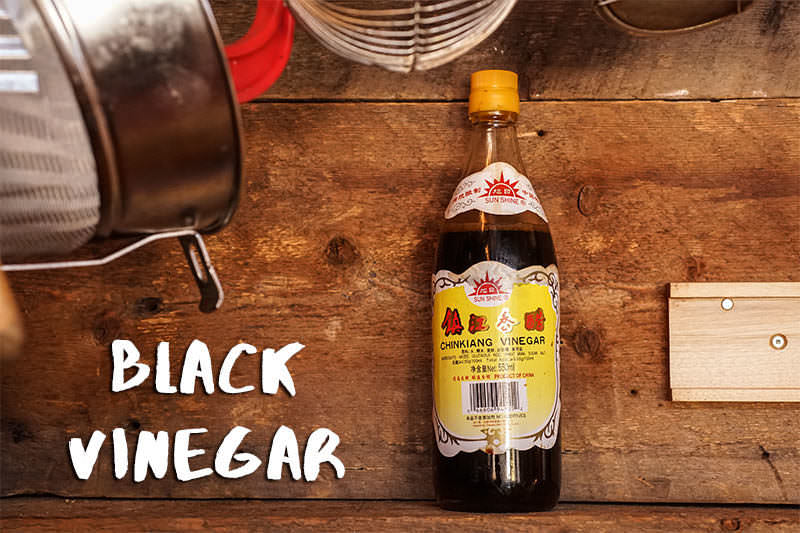 Fragrant, delicate, with a long-lasting but inoffensive acidity, black vinegar is made from double-fermented black glutinous rice. The older Shanxi black vinegar, Lao Chen Cu, is sealed and aged for a deep, caramel-like flavour. The newer Zhenjiang vinegar is sweeter and more forgiving. Use Zhenjiang vinegar for your Sichuan recipes unless aged vinegar is specifically called for. Never use balsamic vinegar.