Dapanji Chicken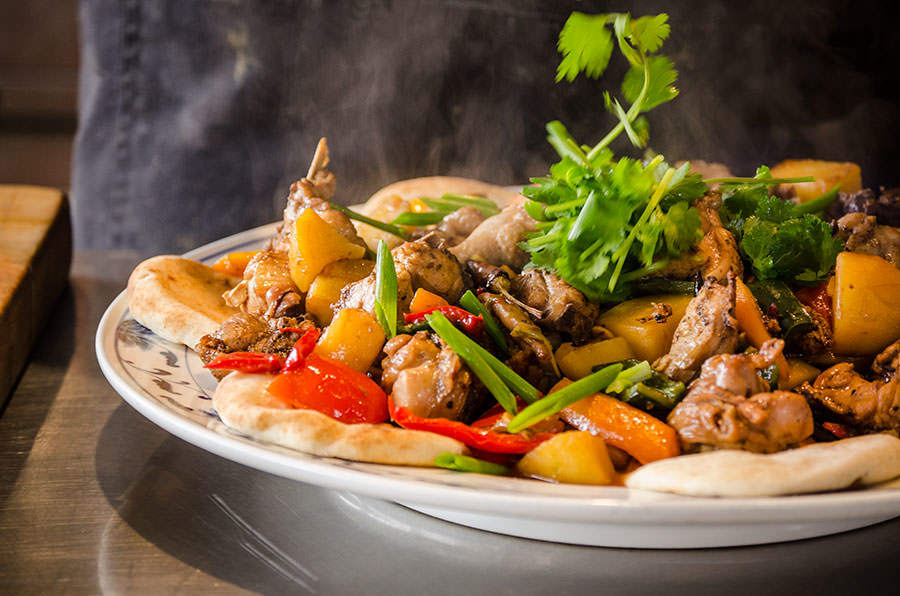 Dapanji means ''Big Plate Chicken'' and, according to the legend, this dish was created for truckers who would arrive in the oasis towns along the Silk Road at all hours.In order to absorb the sauce, the chicken is served either on noodles ou naan bread, a combination that would satisfy hungry truckers. The recipe has since spread throughout Xinjiang and the rest of China.
Ingredients
1 medium chicken, cut in 1½-inch pieces, with the bone
1 Tbsp Silk Road Blend, ground
1 Tbsp cumin, whole
5 green scallions
2 large potatoes
2 medium carrots
1 sweet red pepper
1 firm tomato
3 Tbsp vegetable oil
5 hot chiles, whole
3 garlic cloves, chopped
1¼ cup light beer or water
3 Tbsp soy sauce
1 Tbsp sugar
Salt to taste
Naan bread or cooked Chinese noodles
Fresh cilantro
Method
1

Season chicken with ground spices and cumin. Set aside.

2

Cut the whites of the scallions into 1-inch sections. Set aside the green sections (for garnish). Cut potatoes, carrots, sweet pepper and tomatoes into 1-inch cubes. Set aside.

3

Heat a large wok or a pan on high. Pour in the oil and dry chiles. Cook until the chiles become brown (5-10 seconds). Add the seasoned chicken, potatoes, garlic and ginger and mix well.

4

Sauté chicken until it begins to brown (7-8 minutes). Add remaining vegetables and mix well. Pour in beer, soy sauce, sugar and salt. Let boil and reduce heat to medium. Simmer until potatoes are throughly cooked (6-7 minutes).

5

Place naan bread (cut in triangles) or the cooked noodles in a large, deep dish. Put chicken and sauce on top. garnish with finely sliced scallion greens and cilantro.