Date squares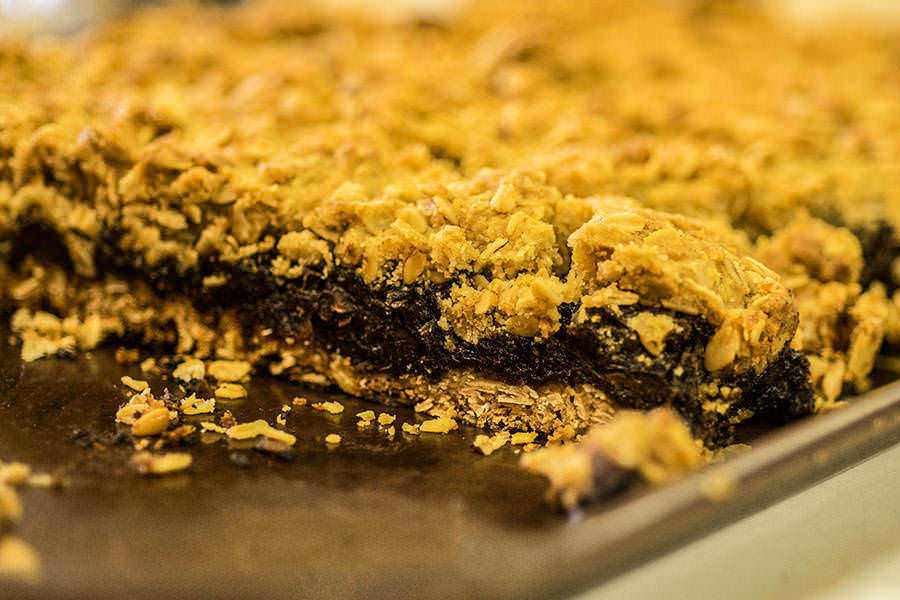 A spicy version of this Quebec grandmothers' classic!
Date Filling
3 cups pitted dates, chopped roughly
1 cup water
1 tsp lemon juice
1 tsp vanilla extract or ½ tsp vanilla caviar
½ tsp baking soda
2 Tbsp brown sugar (cassonade)
Oat crumble
2 cups oat flakes
1 cup flour
1 cup brown sugar (cassonade)
½ tsp baking powder
1 pinch salt
1 Tbsp Gingerbread Spice, ground
¾ cup butter, soften
Method
1

Preheat oven to 350 F.

2

Put all the date filling ingredients in a pot. Bring to a boil. Lower heat and simmer for a few minutes, stirring, until the filling resembles a consistent purée. Set aside.

3

In a bowl, mix the oat crumble ingredients together, except for the butter.

4

Add the butter and mix.

5

Put half the crumble mixture into a 20 cm square baking pan lined with parchment paper. Press it down firmly.

6

Spread the date filling on the pressed crumble.

7

Cover with the rest of the crumble and press it lightly.

8

Bake in the oven for 50 minutes.