Deer Chops with Small Seasonal Fruit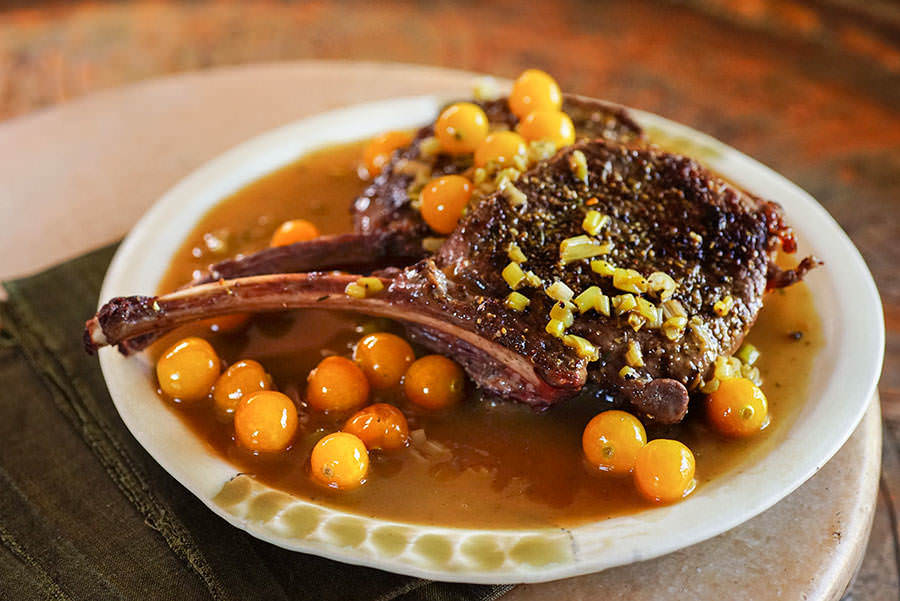 To really make this recipe delicious, it's important to not overcook the meat- it should be rare or medium rare at most. Of course, you can vary the fruit according to the season: cherries, ground cherries, blueberries, raspberries, pomegranate, blackberries, strawberries, dried cranberries or other rehydrated dried fruit. It's also important to not overcook the sauce: the fruit should be lightly cooked but not break down into a purée.
Ingredients
2 deer chops (120 to 150 g each)
1½ Farm-Raised Game spices, ground
Salt, to taste
3 Tbsp clarified butter or duck fat or oil
4 Tbsp. shallot, minced fine
¼ cup dry Xérès
½ cup poultry or chicken stock
1 tsp honey
½ cup small seasonal fruit
2 tsp cold unsalted butter
Method
1

Sprinkle ¾ of the spices and salt on the meat. Rest at room temperature for 15 minutes.

2

Heat a thick-bottomed pan on a medium heat. Add the clarified butter.

3

Cook the meat for 2 minutes on each side.

4

Remove the chops from the pan and set aside. Put the shallots and remaining spices in the pan. Cook for one minute, stirring constantly.

5

Deglaze the pan with the sherry and reduce until almost dry.

6

Add the stock to the pan and bring to a boil. Reduce by one third. Add the fruit and honey. Cook just long enough for the fruit to be heated and fragrance the sauce but still remain whole.

7

Remove the pan from the heat. Add the butter and stir lightly until it is just incorporated. Pour over the sauce and serve.