Domato soupa - Greek Tomato Soup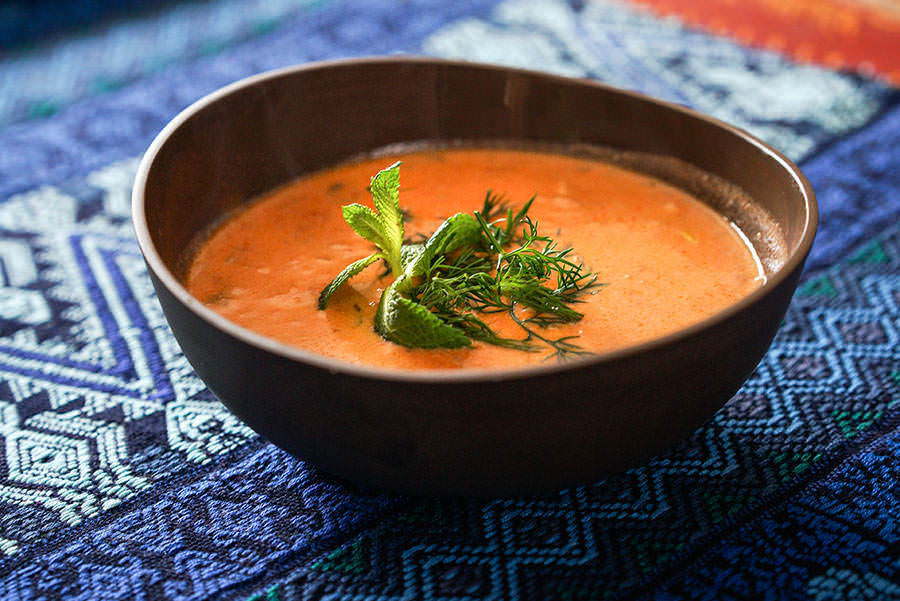 The herb stock for this recipe is equally excellent for preparing other soups, notably fish!
Herb stock
1 onion, sliced
5 cloves garlic
1 large lemon zest
3 sprigs parsley
1 bunch celery leaves
1 chile pepper
3 sprigs thyme
1 tsp Greek oregano
½ tsp black peppercorns
5 cups water
Soup
1 medium leek, cleaned
2 medium onions
¼ cup olive oil
3 cloves garlic, chopped
Zest of ½ orange, grated
1 Tbsp tomato paste (greek, if possible)
3 cups tomatoes, peeled and crushed
3 Tbsp dried mint
Sugar, salt and pepper, to taste
1½ cup thick yogurt
1 Tbsp flour
1 egg
Fresh dill, for garnish
Method
1

Place all the stock ingredients in a pot. Bring to a boil, then let simmer for a good 20 minutes.

2

Meanwhile, chop the onion and leek. Sauté, without browning, in a large pot with olive oil. Cook 5-7 minutes, just until they begin to soften.

3

Add garlic, orange zest, tomato paste and mint. Cook for 2 minutes, stirring constantly.

4

Add the tomatoes and stock. Add a good pinch of sugar, salt and pepper.

5

Bring to a boil. Reduce heat and let simmer for 30 minutes.

6

Place the yogurt, flour and egg in a bowl and mix well. With a whisk, gradually incorporate a few ladlefuls of hot soup into the yogurt mix.

7

Pour the heated yogurt into the pot with the remaining soup and continue to heat slowly for another 3-4 minutes- do not bring to boil or it will curdle the yogurt.

8

Serve hot, garnished with dill.
This recipe is inspired by "Recipe from a Greek Island" by Susie Jacob.