Doro Wett - Stewed Berbéré chicken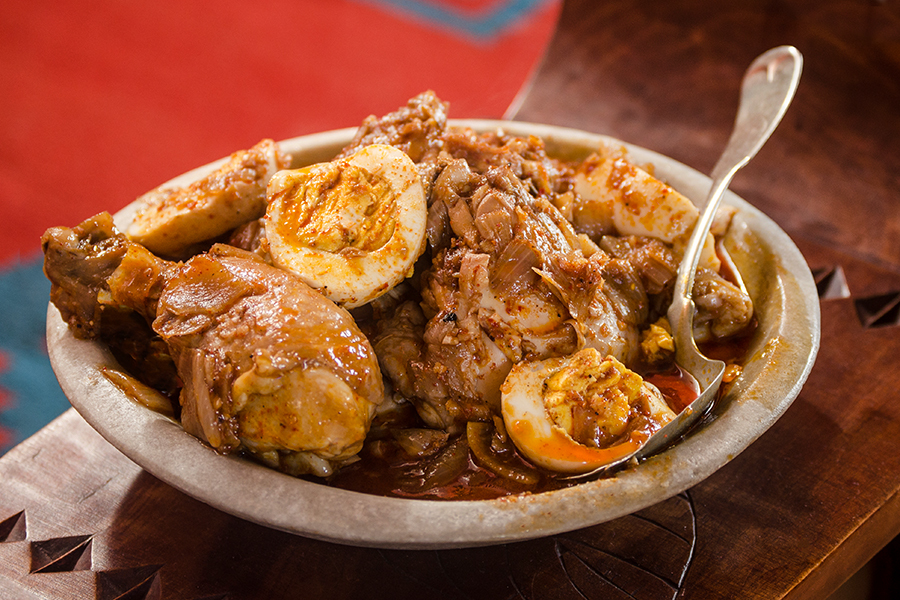 In Ethiopia, Wett is served on injera, a bread like pancake made from t'ef, a local grain. We often serve it with rice, bulgur, attieke (cassava couscous) or with a simple side of shallot seasoned mashed potatoes.
Ingredients
6 chicken wings
6 chicken legs (drumsticks and thighs)
6 red onions, coarsely diced
Juice of 2 limes
8 tbsp spiced butter or ghee 
3 tbsp Ethiopian Berbéré, ground
4 tbsp fresh ginger, chopped
3 garlic cloves, chopped
1 Tbsp salt
½ cup (125 ml) red wine
6 hard boiled eggs
Method
1

Wash the chicken thoroughly. Sponge dry and place in a bowl.

2

Add the onions, lime juice and salt. Mix well and ideally allow to marinate for1 hour.

3

Remove the onions from the bowl.

4

Heat a large pot on medium heat. Add half the butter and the onions. Cook stirring regularly until the onions wilt (10 minutes).

5

Add the ground Berbéré, ginger, garlic and the remaining butter. Cook until everything is well infused.

6

Add the wine and 2 cups of water. Cover and simmer for 15 minutes.

7

Add the chicken and cook until tender (30-40 minutes).

8

Add the hard boiled eggs and taste for salt. Turn off the heat and let rest for 15 minutes before serving.