Dry apricot and pistachio tart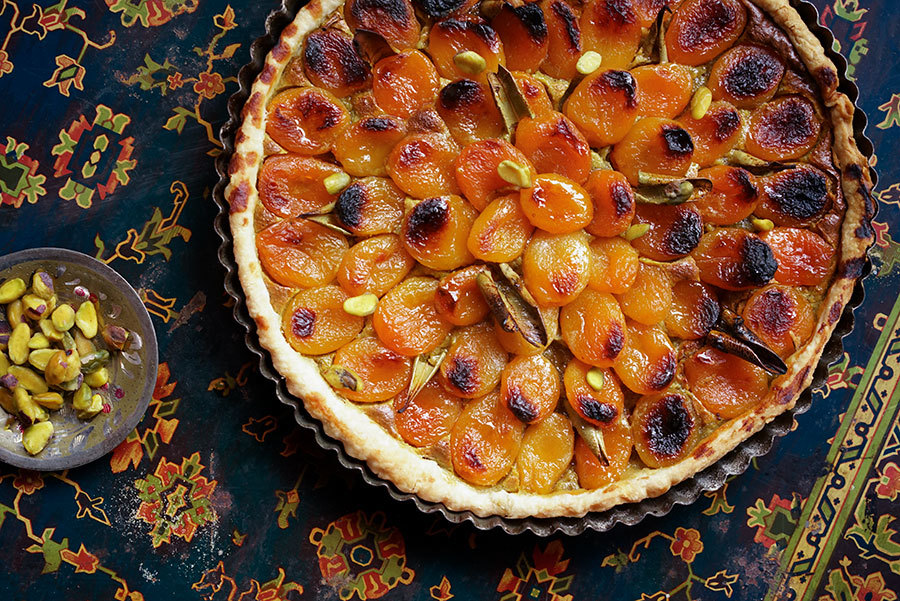 Dry fruits are ideal for winter desserts, especially when the fresh fruits available lack inspiration. West-Indian bay leaves, with their clove and citrus notes, are a perfect match for apricots and pistachios.
Ingredients
3 Tbsp honey 
2 cups dry apricots
1 pie crust (see our recipe)
1 pistachio frangipane recipe
2 Tbsp butter  
Pistachios for decoration
2 Tbsp honey to finish
Pistachio Frangipane
¾ cup pistachios
2 Tbsp butter at room temperature
3 Tbsp honey 
1 egg
1 tsp grated lemon zest or 2 Tbsp lemon confit
Pistachio frangipane
1

Place pistachios in a food processor and reduce to a fine powder.

2

Add remaining ingredients making a homogenous paste.  Scrape the sides of the food processor when necessary.
Tart
1

Pour honey, 1 cup water and bay leaves into a small casserole. Bring to a boil, cover and let boil for 3 minutes. Add dry apricots and boil for another minute. Cover and remove from heat. Let rest 1 hour or overnight to hydrate apricots. 

2

Heat oven to 375 °F. Roll out pie crust and place in a 10-inch pie pan.


3

Remove apricots from the casserole and set aside any remaining liquid.


4

Spread frangipane onto the crust. Place apricots on top. Cut bay leaves in two and place between apricots to perfume the pie while cooking. Place dollops of butter on the pie.


5

Cook 20 minutes in the oven. Reduce heat to 350 °F and continue cooking another 15-20 minutes. Remove from oven and let rest for one or two hours before decorating.


6

Pour the 2 remaining Tbsp of honey into the liquid in the casserole (if there is any). Give a quick boil then then glaze apricots by brushing on liquid. Alternatively, stream honey on to the pie.  Decorate with pistachios.


7

Remove bay leaves before serving.