Dry-Brined Green Pepper Duck Breast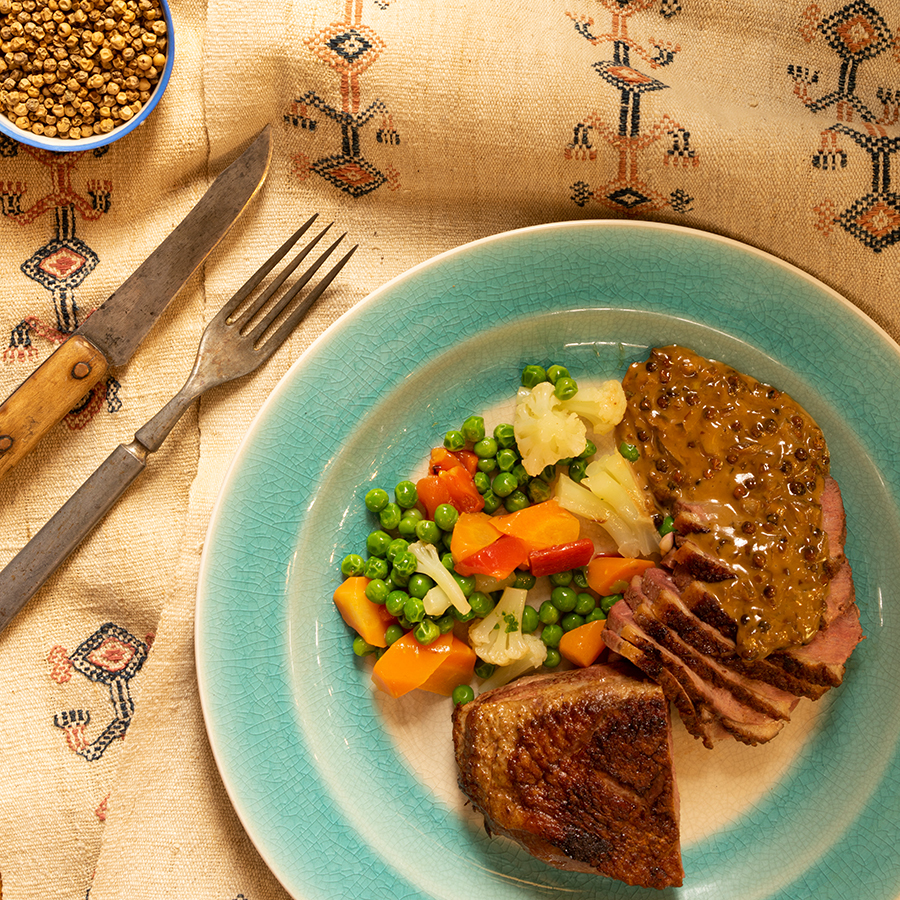 In search of an elegant dish that's easier to make than you might think? Pan-seared duck breast, accompanied by a rich, green pepper sauce might well be the solution. This dry-brined pepper, is salty and mildly hot, which is perfect for this classic recipe. Ideally, rehydrating the peppercorns for a few minutes in alcohol before use really extracts its vegetable notes.
Ingredients
3 Tbsp Dry-brined green pepper
3 Tbsp Cognac or Whiskey
1 small dry shallot
1 Duck breast
2 Tbsp butter
¼ cup chicken stock OR water
1 tsp Soya sauce (opt.)
6 Tbsp 35% cream
Salt, if needed
Method
1

Preheat the oven to 375°F.

2

Place the dry-brined green pepper in a small bowl and pour in the alcohol of your choice. Cover and let infuse while preparing the recipe.

3

Finely chop the shallot and set aside.

4

Heat a pan on medium-high and brown the duck breast. Turn over once the skin is richly golden and the breast has rendered its fat (4-5 mins). Cook for 2 more minutes. Place the breast in a pie dish and cook for another 10 minutes, in the oven.

5

Meanwhile, remove most of the fat from the pan then add the shallot and half the butter. Brown for one minute, stirring constantly using a spatula.

6

Pour the dry-brined, alcohol-infused peppercorns into the pan, being careful not to spill any alcohol, which could be problematic if it comes in contact with the heat source of the stove. Deglaze well, add the chicken stock, and reduce by half. Add the cream and soya sauce.

7

Mix constantly until the sauce is sufficiently reduced and creamy. Incorporate the remaining butter, taste, and salt, if necessary. Set aside on the stovetop.

8

Remove the duck breast from the oven and pour any excess jus into the sauce. Place the breast on the sauce and rest in a warm place for 5-8 minutes before slicing and serving.