Duck legs and cauliflower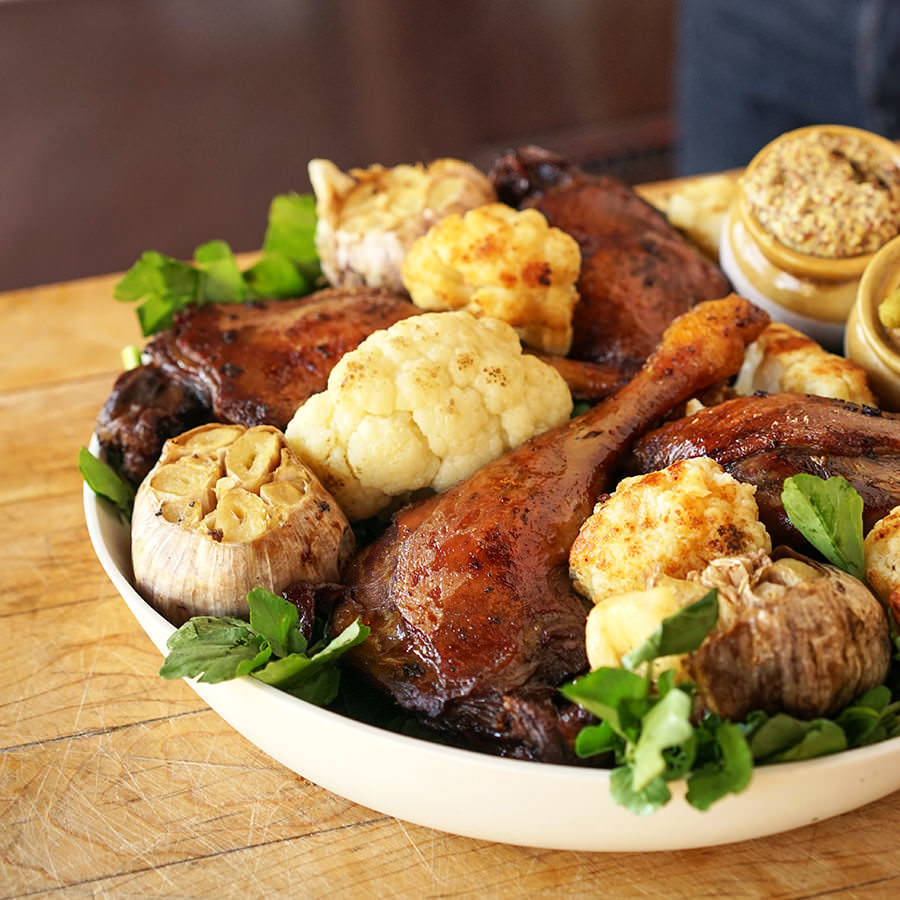 That scent that fill the house during this slow, covered cooking surely contribute to its great comforting quality. The duck is a little like confit, and the garlic and cauliflower just melt in your mouth. There's no need to add any fat to the pan at the beginning, the duck legs have enough in them to cook the meat until tender as well as confit the cauliflower. Reserve the cooking fat for a later soup.
Ingredients
4 duck legs
4 tsp salt
1 tbsp Garam Masala, cracked
4 heads garlic
1 cauliflower
Method
1

Mix salt and cracked spices. Rub on duck legs.

2

Choose a large pan that can fit a cover or plate. Place duck, skin-side down, in the pan. Place pan on medium-low heat and cover.

3

Cook for 20 minutes (the duck fat should start to melt). Flip the duck legs. Slice off the top of garlic heads and place around the duck. Return cover to the pan, slightly ajar.

4

Turn duck 3 more times every 15 minutes.

5

Cut cauliflower into large, 2 to 3-inch florets. Wash and drain. Place around duck and garlic in fat at the bottom of the pan. Keep cover on, still slightly open, and cook for another 30 minutes. Remove duck, garlic and cauliflower to a platter. Serve with mustard.