Duck Satay with Balinese spices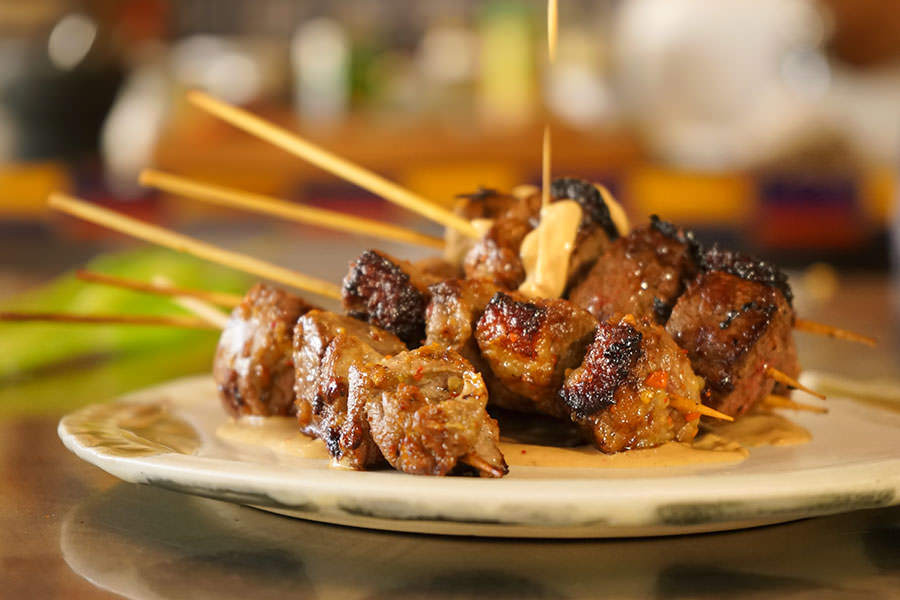 These little skewers cook very nicely in a pan. We prefer to grill the fatty side first for a nice, crispy crust, which also ensures a nice, pink center. These satays are traditionally served with peanut sauce.
Makes about 12 Skewers.
Ingredients
2 duck breasts
2 Tbsp Balinese Curry
2 shallots
2 cloves garlic
2 tsp lemon juice
¼ cup coconut milk
1 tsp salt
Method
1

Remove any excess fat from the duck. Cut into ¾ inch cubes.

2

Place the remaining ingredients in a food processor and purée.

3

Marinate the dusk in the spice paste for a few hours (at least 1 hour).

4

Réserver la marinade. Put 3-4 pieces of meat on each skewer. Make sure that the fatty side of the duck is on the same side of each skewer.

5

Heat a pan on medium and place the skewers, fatty side down, in the pan.
Cook until the skin begins to brown and fat begins to melt (5-6 minutes).

6

Brush the skewers with the remaining marinade.

7

Return the skewers to the pan with tongs and cook the remaining 3 sides quickly (about 1 minute each side).

8

Serve with peanut sauce.