Duck with Watercress and Pomegranate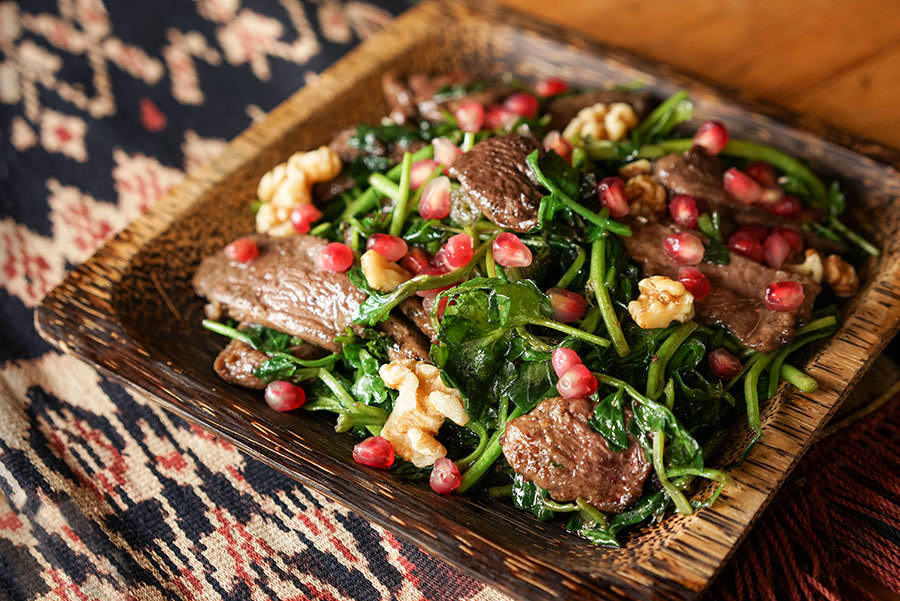 If you don't have any duck fat, you can slice some fat off the duck, dice it, and cook for 12 minutes on low heat to render the fat.
Ingredients
1 lb large duck breast
½ tsp Garam Masala
1 tsp cumin seed
½ tsp black pepper, ground
2 bunches watercress
3 Tbsp duck fat or coconut oil
3 cloves garlic, chopped
4 scallions, sliced
¼ cups walnuts, chopped
4 Tbsp pomegranate seeds (opt.)
Philippe's Chinese Marinade
2 tbsp arrowroot powder
½ tsp black pepper, ground
1 tsp salt
1 tsp maple syrup
2 tbsp tamari
2 tsp sesame oil
2 tbsp sherry or vermouth
Sauce
½ cup chicken stock or water
2 Tbsp wine
1 Tbsp honey
2 Tbsp pomegranate molasses
Method
1

Remove skin from duck breast and halve it lengthwise, then slice into ½-inch pieces.

2

Mix marinade ingredients and spices together in a bowl. Add meat and mix to ensure each piece of meat is covered. Let rest 15 minutes at room temperature.

3

Wash watercress and dry well by rolling it in a paper towel. Cut into 2-inch sections.

4

Mix remaining ingredients together in a small bowl.

5

Heat a wok on medium-high. Melt fat and add duck. Sauté, moving the duck pieces around with the spatula so they don't stick together. Remove meat and set on a plate when it is mostly cook through but still a little bloody. Leave fat in the wok.

6

Put heat on maximum and cook garlic and scallion for 10 seconds. Incorporate watercress and sauté for 30 seconds. Pour in sauce ingredients and give it a good boil. Return duck to the wok and any juice laying on the plate. Add half the nuts, stir well, and cook 30 seconds more. Transfer to a plate and garnish with nuts and pomegranate seeds.