Dukkha Grilled Zucchini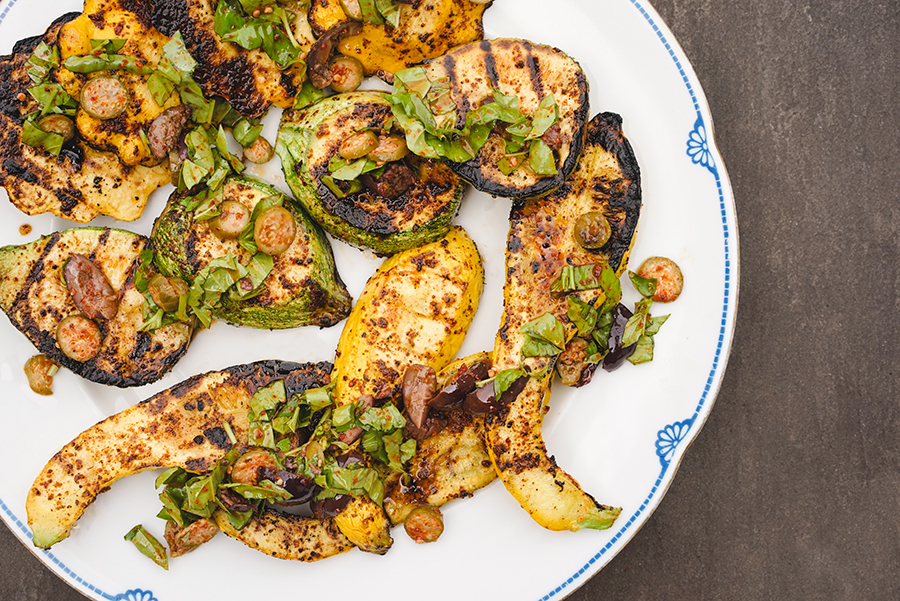 Grilled zucchinis are a summer favourite, especially when we take the time to spice them adequately or to add a garnish, as we've done with this recipe, which also boasts a rustic tapenade.
Ingredients
1 lb zucchinis
1 tsp salt 
2 Tbsp Dukkha Spices, ground 
¼ cup olive oil 
Tapenade
¼ cup black olives 
¼ cup caper berries or capers 
¼ cup basil, chopped 
1 anchovy filet (opt.)
2 Tbsp lemon juice 
1 tsp lemon zest 
1 tsp Pastis (opt.)
Freshly ground pepper, to taste  
¼ cup olive oil 
Method
1

Heat the grill. Cut zucchinis into ½ inch slices.

2

Place in a bowl with salt, spices and olive oil. Mix well and let rest for 5 minutes.

3

Using the heel of your hand, crush the olives on a cutting board. Remove the pits. 

4

Chop the olives, caper berries, basil and anchovy filet with a knife and put them in a bowl with the remaining ingredients. Mix well and set aside.

5

Grill the zucchinis on both sides until cooked, but still firm.

6

Place on a dish and top with tapenade.