East Coast Deviled Eggs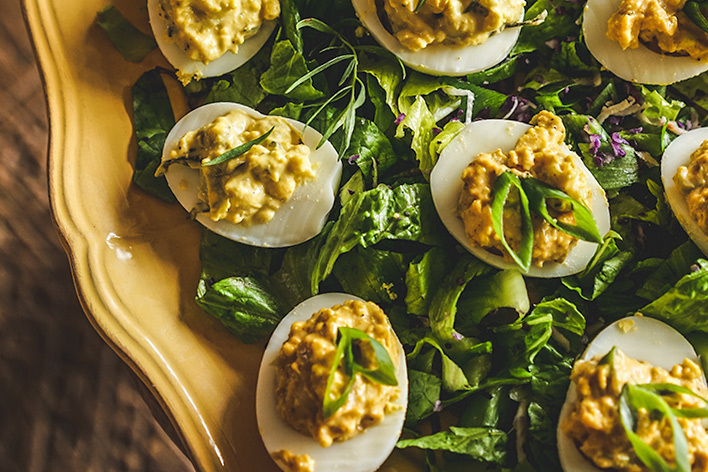 East Coast spices are typically found in seafood and fish dishes but, they also add a wonderful flavour to dips or mayonnaise-based sauces.
Ingredients
8 eggs
⅓ cup mayonnaise
1 Tbsp East Coast blend, ground
½ celery branch, chopped finely
3 green shallots, chopped finely
Salt and pepper, to taste
Method
1

Place the eggs in a pan and cover with minimum 1-inch of cold water.




2

Bring to a boil. As soon as the water boils, cover the pan, remove from heat and let rest 7 to 8 minutes.




3

Remove the eggs from the pan and dip them in cold water. Let cool in the water for 5 minutes, then peel.




4

Mix the ground spices and mayonnaise. Let rest refrigerated for at least 30 minutes.




5

Cut the hard-boiled eggs in two, lengthwise. Remove the yolks and transfer to a bowl.




6

Mash the yolks, using a fork, then add celery, shallots and mayonnaise.


Salt and pepper to taste. Mix well.




7

Using a pastry pocket or a spoon, stuff the eggs with the yolk preparation.





8

Decorate with the green clippings of shallots.