East Coast Potato Salad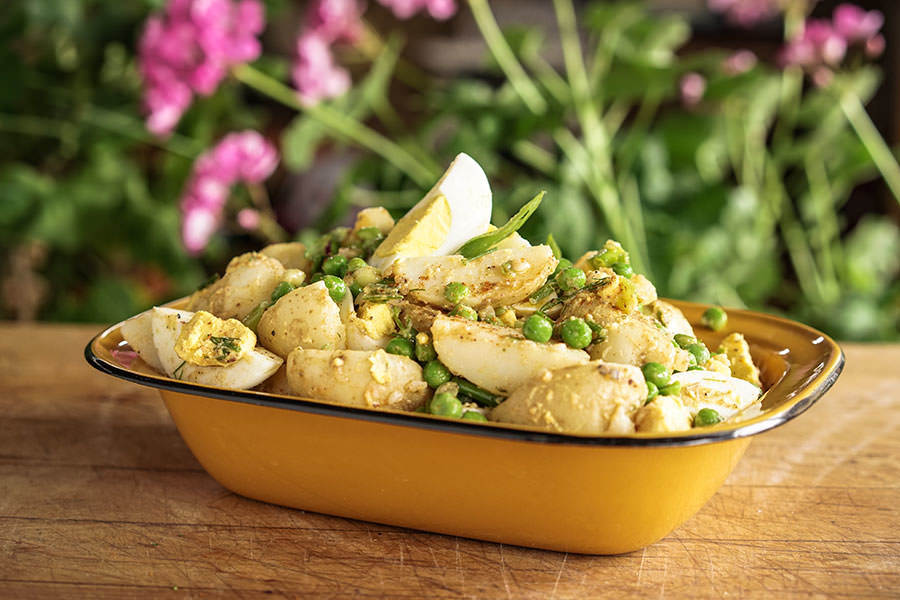 This potato salad is perfect for a summer BBQ or potluck. For a really great salad, sprinkle the potatoes with liquid (wine, vermouth, stock) while they're still hot. This will prevent them from absorbing too much dressing.
Ingredients
2 lbs new potatoes
½ cup white wine
1 large dill pickle
6 hard-boiled eggs
1 cup cooked green peas
¼ cup chopped dill or herb of your choice
Dressing
1 pack scallions, chopped fine
1 Tbsp East Coast spice blend
4 Tbsp wine vinegar
¼ cup dill pickle juice
2 tsp salt
½ cup olive oil
Method
1

Boil potatoes until they can be easily pierced with a knife.

2

Drain the potatoes and lay them on a plate to cool for 5 minutes. When they're no longer burning hot, chop them into pieces and sprinkle with wine. Let cool 30 minutes.

3

Place all dressing ingredients, except the oil, in a large bowl and stir well. Let stand 5 minutes.

4

Finely chop pickle and incorporate into dressing with the oil. Transfer potatoes to the bowl, with the wine that hasn't been absorbed.

5

Stir well. Chop eggs and incorporate delicately with peas and chopped dill. Taste and add salt and pepper if needed.