Eggplant salad with Atraf At-Tib yogurt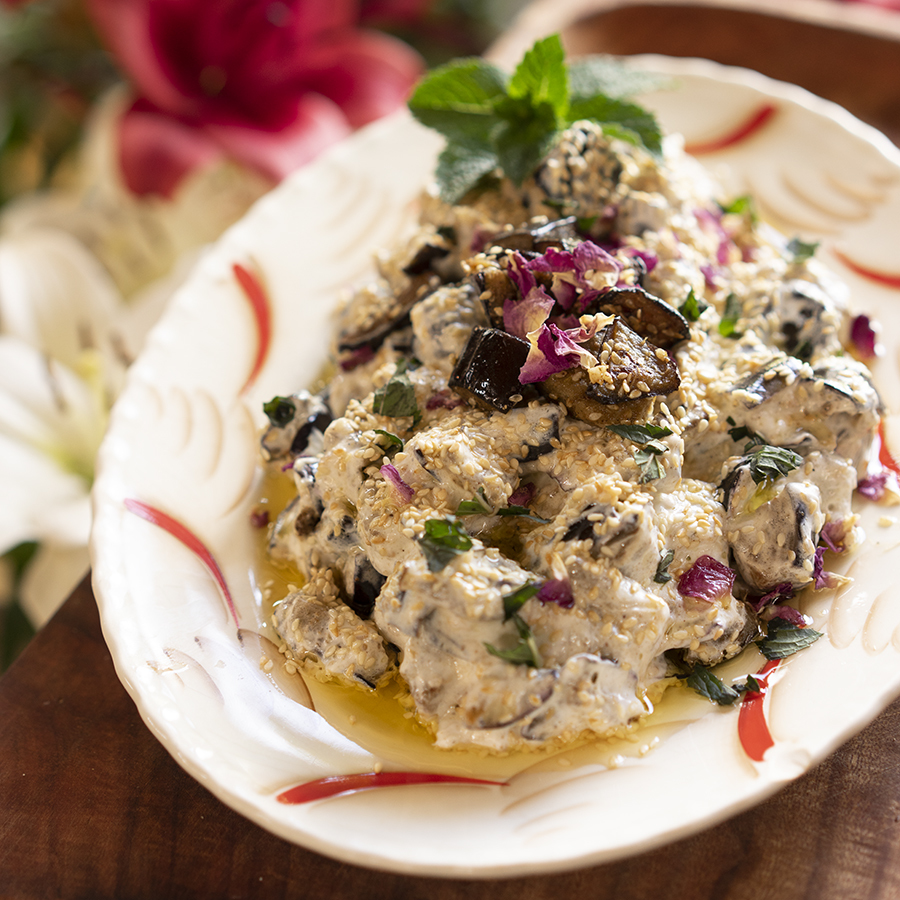 This eggplant salad could very likely have been the ancestor of Baba Ganoush, had the ingredients not been puréed. The history of Atraf At-Tib spice blend dates to medieval times and its composition illustrates the high esteem in which warm, aromatic spices are held in Middle Eastern cuisine. Any leftover spice blend would deliciously compliment lamb or poultry, as well as vegetable dishes. You can substitute Atraf At-Tib spice blend with Thousand and One Nights or Ras-el-Hanout.
Ingredients
Atraf-At-Tib
*Place all spices in a mortar or spice grinder and reduce to a powder. Keeps for 4 weeks in a jar, sheltered from the light.
Method
1

Cut eggplants into ¾ - inch cubes. Place in a bowl and sprinkle with salt. Mix well and let rest for 30 minutes.

2

Squeeze eggplants between your palms to extract any liquid. Wash under running water and squeeze once again.

3

Heat a large casserole on medium. Pour the oil and sauté eggplants lightly for 5-10 minutes, until they begin to turn golden.

4

Add garlic, coriander, cumin, sesame and Atraf At-Tib. Mix well and sauter 5 mintutes more. Add salt and pepper, if needed.

5

Transfer eggplants into a bowl and let cool a few minutes, incorporate the yogurt.

6

Spread evenly on a plate. Garnish with a splash of olive oil, sesame seeds, a pinch of ground Atraf At-Tib and fresh mint.