Eggplant, Squash and Chickpea Curry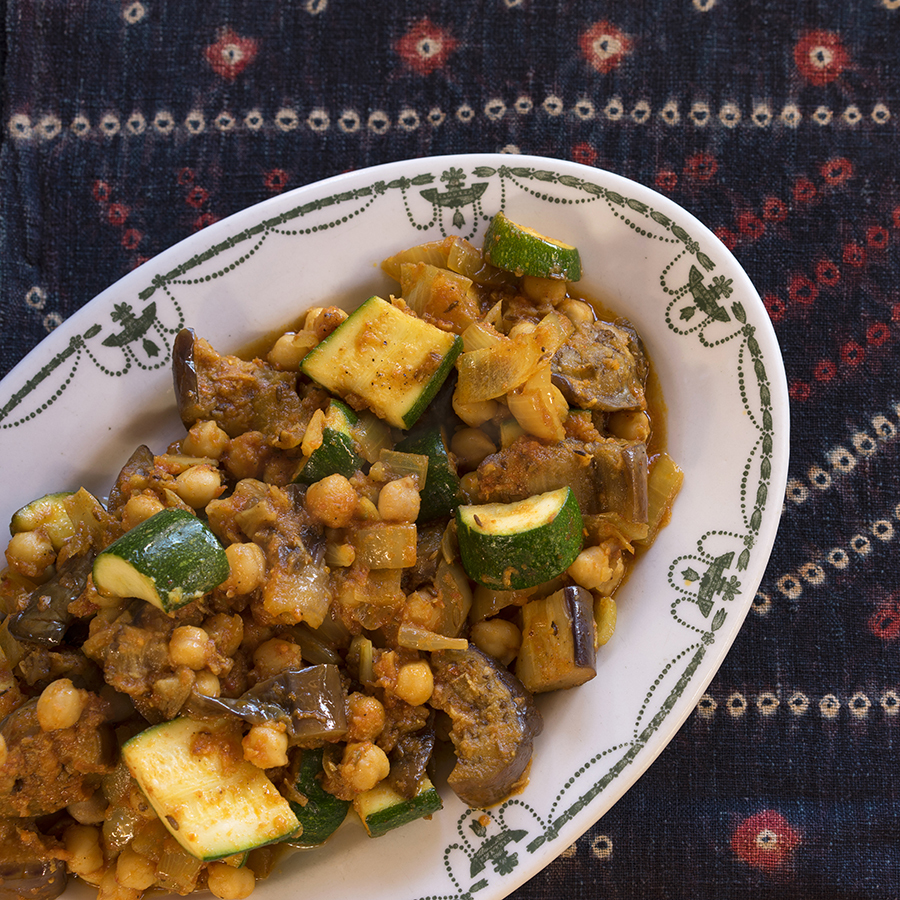 This vegetarian curry can of course be made using other seasonal ingredients. You can choose not to squeeze the moisture from the vegetables such as eggplants and squash that contain a lot of water, however if you do make the effort to do so, the vegetables will have a better texture and absorb less oil, which will make the sauce creamier.
Ingredients
2 eggplants (6 cups, diced)
2 -3 squash (4 cups, diced)
4 Tbsp salt, to disgorge the vegetables
4 Tbsp vegetable OR olive oil
2 medium onions, chopped
1 ½ Tbsp Curry for vegetables
1 ½ cups tomatoes, crushed
6 cloves garlic, chopped finely OR grated
1–inch piece ginger, finely chopped OR grated
2 cups chickpeas cooked and drained
Hot chilies, to taste
Salt and pepper, to taste
Method
1

Cut the eggplants into 1-inch cubes. Place in a bowl with 3 Tbsp salt. Cover with water. Let rest for 10 minutes, drain, and remove excess water by pressing firmly between your hands.

2

Cut the squash into 1-inch cubes. Sprinkle a tablespoon of salt. Mix well and let rest for 10 minutes. Rinse under running water and dry using a paper towel or a clean kitchen towel.

3

Heat a large pan on medium. Pour in the oil and add the eggplants. Brown slowly, stirring occasionally until tender (10-15 minutes). Remove from the stove but conserve the oil.

4

Add the chopped onions and add more oil, if necessary. Continue cooking stirring regularly until the onions soften (5-6 minutes). Add Curry for vegetables and the diced squash. Sauté lightly for one minute.

5

Incorporate crushed tomatoes, cooked eggplant, chickpeas, grated garlic, and ginger. Add the chilies if you wish.

6

Bring to a boil, and continue cooking for another 15 minutes or until the squash is cooked to your taste and the sauce is concentrated.

7

Taste and adjust for salt and pepper, if necessary.