Eggplants alla parmigiana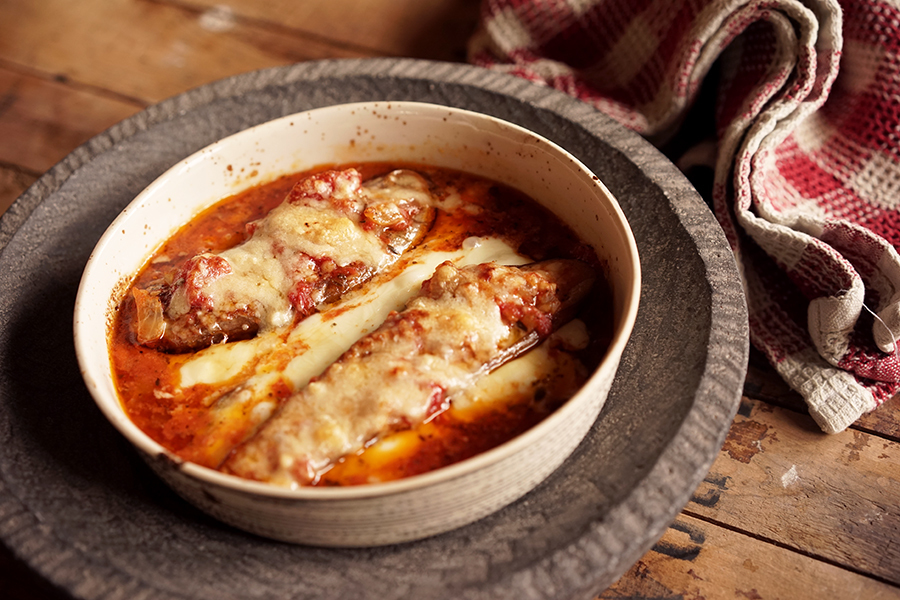 This is a great end-of-summer recipe, when eggplants and tomatoes are at their best.
Obviously, using the best quality mozzarella and parmesan makes a world of difference.
Be careful to leave a good distance between each layer of eggplant in your baking dish (or make individual portions). This is not supposed to be an eggplant lasagne!
Ingredients
4 medium eggplants
¼ cup salt
½ cup olive oil
1 medium onion, chopped
1 garlic clove, chopped
6 Tbsp olive oil
1 Tbsp Pasta Staff spice blend, ground
3 cups peeled tomatoes, OR canned tomatoes
Salt and freshly ground pepper, to taste
½ lb fresh mozzarella
2 oz parmesan
1 Tbsp olive oil
Method
1

Cut eggplants in ½ to ¾ - inch slices. Place in a bowl and rub with salt. Stack the slices and let rest for 10 minutes.

2

Rinse the eggplant slices under running water and use your hands to squeeze out excess water, without crushing the slices. Rinse again under running water, let swell for 1 minute and squeeze once again. The eggplants are now ready to brown without absorbing too much oil.

3

Heat a pan on medium with ½ cup olive oil and brown the eggplant slices for a few minutes on either side. Set aside on a plate lined with a paper towel.

4

Add onion, garlic and 6 Tbsp olive oil to the pan. Cook for a few minutes to soften the onion without browning.

5

Coarsely chop tomatoes and add to the pan with the spices, salt and pepper. Simmer for 15 minutes.

6

Heat the oven to 375 °F.

7

Pour one third of the tomato sauce into the bottom of a baking dish or into individual ramequins.

8

Place the eggplant slices in the baking dish or the ramequins. Place the slices 2 inches apart, in the dish. Sprinkle parmesan on each slice then add a slice of mozzarella. Pour on a small spoonful of sauce followed by another slice of eggplant.

9

Pour on some tomato sauce and a sprinkle of olive oil.

10

Bake in the oven until the mozzarella melts.

11

Let rest for 2-3 minutes before serving.