Ethiopian Berbere Hamburger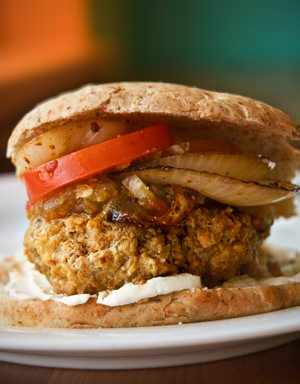 This mouth-watering hamburger recipe was featured on The Ricardo Show.
Ingredients
1 lb ground beef
2 cloves garlic, finely chopped
1 egg
2 Tbsp fresh ginger, peeled and grated
2 Tbsp Ethiopian Berbere Blend, ground
1/3 cup clarified butter (ghee) or spicy butter
¼ Spanish onion, thinly sliced
Cream cheese, to taste
Relish or chutney, to taste
4 Hamburger bun or pita bread, cut in half and toasted
1 tomato, sliced
Salt and pepper
Method
1

In a bowl, combine the meat, egg, garlic, ginger and 1 ½ tbls. of Ethiopian Berbere spices in a bowl.

2

Shape the meat mixture into 4 patties. Set aside.

3

In a large skillet, sauté the onion in 2 tbls. of clarified butter (ghee). Sprinkle with the remaining spices. Season with salt and pepper. Transfer to a plate.

4

In the same skillet, brown the patties in the remaining butter until cooked through (2-3 min.) Season with salt and pepper.

5

Garnish the bread with cream cheese and relish. Place the patties on the bottom bread. Garnish with onions and tomato slices.