Ethiopian-Style Beef Spaghetti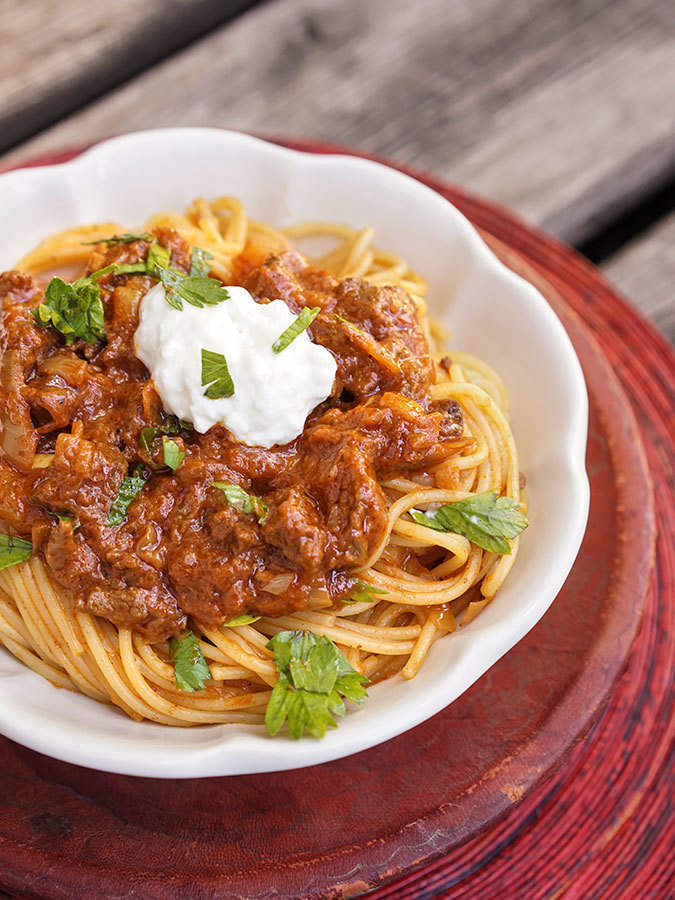 Ethiopia was briefly occupied by Italy in the 1930's. In their great wisdom, they chose to adopt certain foods like spit-roasted lamb and (of course) wheat pasta- on top of which they add their renowned spiced clarified butter. 
Method
1

Place spiced butter in a pot on medium heat and sauté onions until browned, about 15 minutes.

2

Meanwhile, chop beef into small, ½ inch cubes. Add beef, garlic and ground Berberé and sauté a few minutes.

3

Incorporate tomato paste. Cook for 2-3 more minutes, then add tomatoes and simmer for about 30 minutes until the meat is tender and the sauce has thickened a little.

4

Cook pasta according to package instructions. Set aside 1 cup of the cooking water then drain.

5

Pour 1/3 of the sauce into a pot with the reserved cooking water. Bring to a boil, then add the pasta. Cook for 1 minute more to ensure the pasta is well-coated.

6

Place on a serving dish or in individual bowls. Cover with the remaining sauce and garnish with parsley and cottage cheese. 
Leftover sauce can be refrigerated or even frozen.