Ethiopian Vegetable Stir-Fry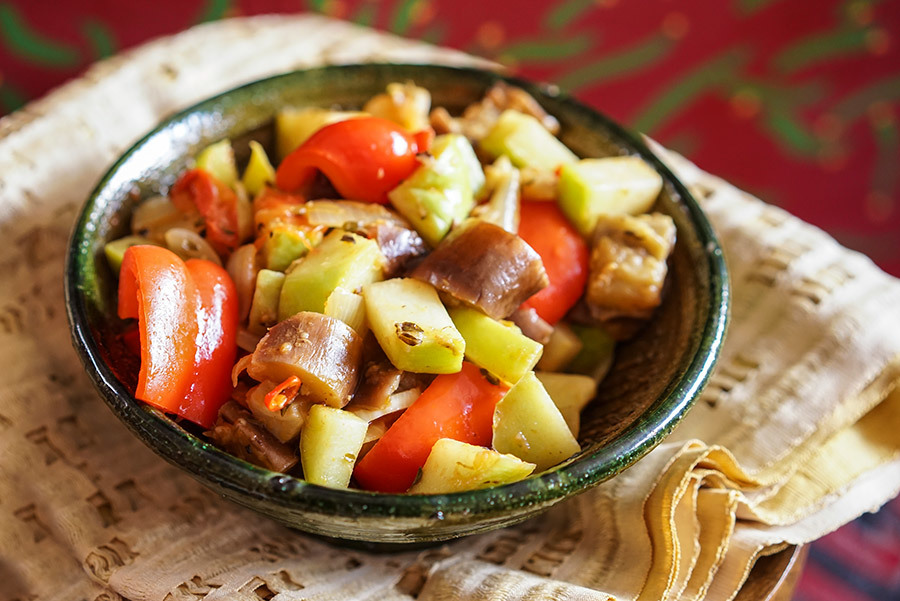 You may be surprised by the technique used in this recipe. Some of the vegetables are first sautéed dry, with the clarified butter only added to stop the cooking. This way, the vegetables remain crunchy. Feel free to use different kinds of vegetables.
Ingredients
1 medium eggplant
2 medium onions
¼ cup spiced butter or olive oil
2 tsp thyme
Cayenne pepper, to taste
2 chayotes or zucchinis
1 red pepper
3 tomatoes
4 cloves garlic, chopped
2 Tbsp ginger, chopped
Salt to taste
Method
1

Chop eggplant and onions into 1-inch cubes.

2

Heat a pot on medium-high and add eggplant and onions. Sauté, dry, for around 12 minutes, until the vegetables let water.

3

Meanwhile, chop remaining vegetables into 1-inch cubes.

4

Add butter to the pot, then add remaining ingredients. Continue cooking, stirring regularly, until the vegetables are cooked but still crunchy.