Ethné's Shepherd's Pie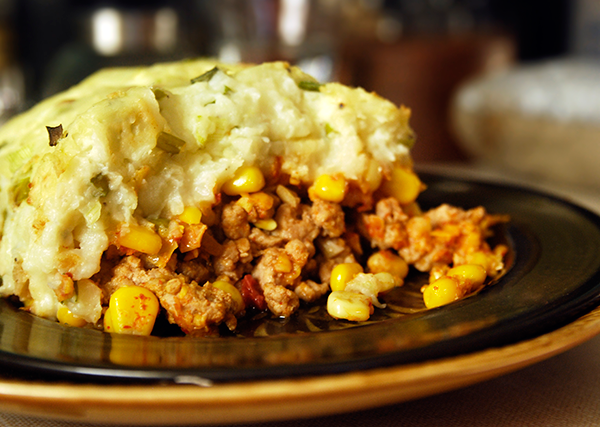 Ethné  went all Caribbean on this recipe: cumin in the meat, chiles in the corn, nutmeg in the potatoes and other modifications add a much needed dose of flavour to this comfort food and staple of Québecois cuisine.
Meat Mixture
2 cups onions, chopped
2 Tbsp olive oil
1 lb combined lean ground beef, pork, and veal
6 cloves garlic, chopped
1-1½ tsp Cumin
Salt
½ tomato, chopped or 2 Tbsp ketchup
1 tsp vinegar
Mashed Potatoes
Corn
Method
1

In a pan, sauté onion in olive oil for three minutes.

2

Add meats and cook until crumbly.

3

Add remaining Meat Mixture ingredients and simmer for 10 minutes. Set aside.

4

In a pot of boiling salted water, cook potatoes until soft. Drain.

5

Mash potatoes.

6

In a pot, heat the milk with butter, salt, nutmeg and green onions. Once heated, pour into Mashed Potatoes and whisk. Set aside.

7

In a medium bowl, mix together corn, salt and hot pepper.

8

In a blender, purée a portion of corn mixture.

9

In a flat casserole dish, create three layers with ingredients in the following order: meat, corn, potatoes. Cook 30-40 minutes at 375ºF.