Fattoush Salad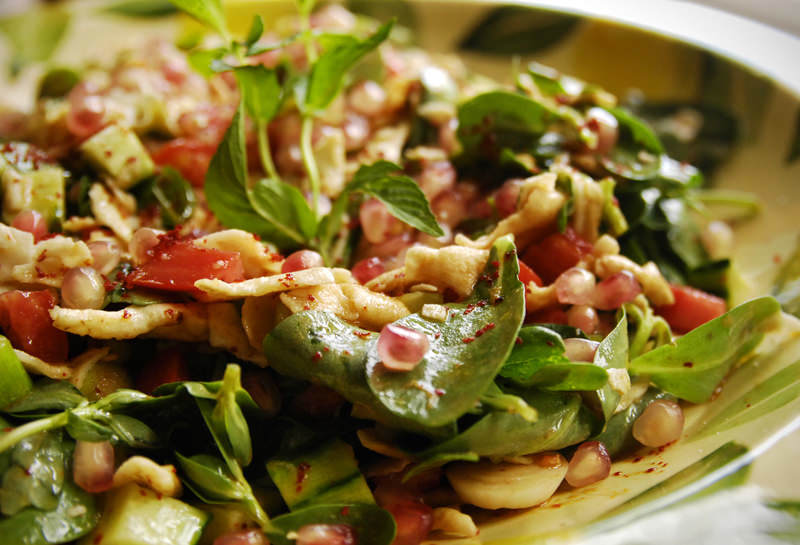 A real country salad - Lebanese style. A must when garlic and vegetables are at their peak.
Ingredients
2 Pita breads
1 bunch purslane or aragula
2 tomatoes, medium cubed
2 cucumbers,  medium cubed
1 small summer onion with green stem or 1 red onion, thinly sliced
Vinaigrette
1 large garlic clove
½ tsp salt
1 tsp ground sumac
2 Tbsp Pomegranate molasses
6 Tbsp olive oil
2 Tbsp fresh mint, chopped
Ingredients
1

Separate the pitas and toast them on a grill or in the oven until they are dry and well toasted.

2

Shred the bread in small pieces into a large bowl. Cover with cold water for 5 seconds and drain.

3

Add the vegetables.

4

Pound garlic in a mortar with salt into a fine puree. Add pomegranate molasses, oil and mint. Pour into a bowl.

5

Season to taste with Aleppo pepper. Mix well and let rest for ten minutes before serving.

6

Garnish with pepper and pomegranate seeds (optional).
An ancient ingredient, pomegranate molasses is made by boiling down fresh pomegranate juice until it is thick enough to keep without preservatives. This fruity, sweet and sour syrup is used in salad dressings, marinades, sauces, or simply as a finishing touch. We like to call it the Middle East's balsamic vinegar. The best brands contain no sugar or other added ingredients, only pomegranate.