Fava patremeni - "Married" Split Peas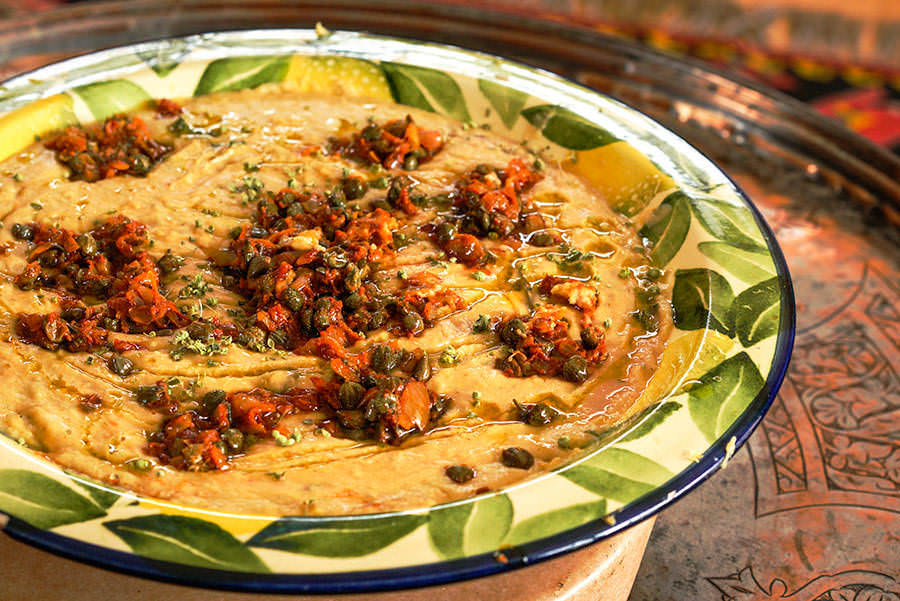 A rich, filling dish that almost recalls pea soup. It's the oregano, bay leaf, and caper garnish that imbue it with classic Mediterranean flavours. 
Ingredients
1 cups split yellow peas
½ cup olive oil
1 large onion, chopped
Salt and pepper
1 tsp Greek oregano
3 Tbsp red wine vinegar
Caper Sauce
2 large onions, chopped
½ cup olive oil
4 Tbsp tomato paste (Greek, if possible)
1 cup capers, rinsed thoroughly
Pepper, to taste
½ tsp cassia, ground
Method
1

Place the peas in a colander, rinse well under running water, and drain well.

2

Sauté an onion in the olive oil in a large pot until it is just tender.

3

Add the drained peas and mix well. Add 6 cups of water, bay leaf, salt and pepper.

4

Bring to a boil, cover, and cook over a very low flame, stirring occasionally, until the peas begin to break down into a thick purée (around 30 minutes).

5

Meanwhile, prepare the caper sauce. Cook the onions over low heat in a pot until they are well browned (15-20 minutes).

6

Add the tomatoes paste and cook for 5 more minutes.

7

Add the capers, pepper, and cassia. Let simmer for 10 more minutes. Set aside.

8

Add the vinegar and oregano to the pea purée. Mix well and place on a serving platter. Pour the caper sauce over and add a generous splash of olive oil.