Fennel and Feta Pork Tenderloin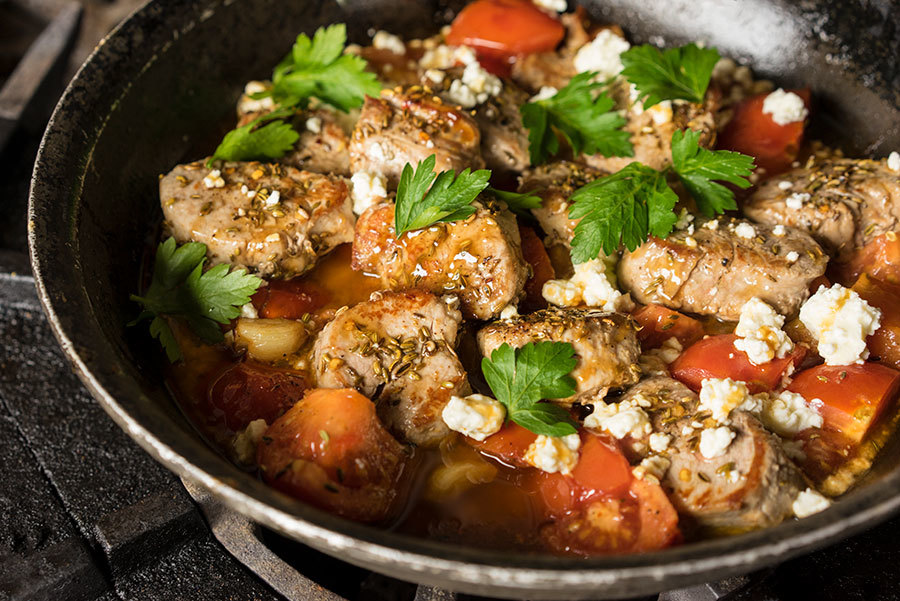 The amount of olive oil this recipe calls for might appear surprising, however the oil emulsifies deliciously with the tomatos to create a silky sauce typical of the Greek islands.
Ingredients
1 pork filet
1 tbsp Chios fennel seeds
1 tsp salt
1 tsp black pepper, cracked
½ tsp hot chile, ground
½ cup olive oil
8 garlic cloves
2 ripe tomatoes
3 oz feta
1 tbsp honey  
Parsley to garnish
Method
1

Cut the pork into 1-inch thick pieces and put them on a plate.

2

Mix fennel, salt, pepper and chile in a small bowl. Season the pork using the blend.

3

Heat a pan on high. Add oil and garlic to the pan, once the garlic begins to sizzle, add the pieces of pork.

4

Brown one side for 3-4 minutes, then turn over and brown the other side.

5

 Meanwhile, cut each tomato into 8 pieces.

6

 Remove the pork from the pan and pour out the oil. Place the pork on a plate.

7

Add tomatoes to the pan. Cook for 3 minutes, until they begin to soften but not falling apart.

8

Sprinkle feta on the tomatoes and cook for another minute. Place the pork slices on top and add whatever sauce is left in the plate. Garnish with a stream of honey and parsley. Let rest a few minutes before serving.