Fennel, kale and green pea pasta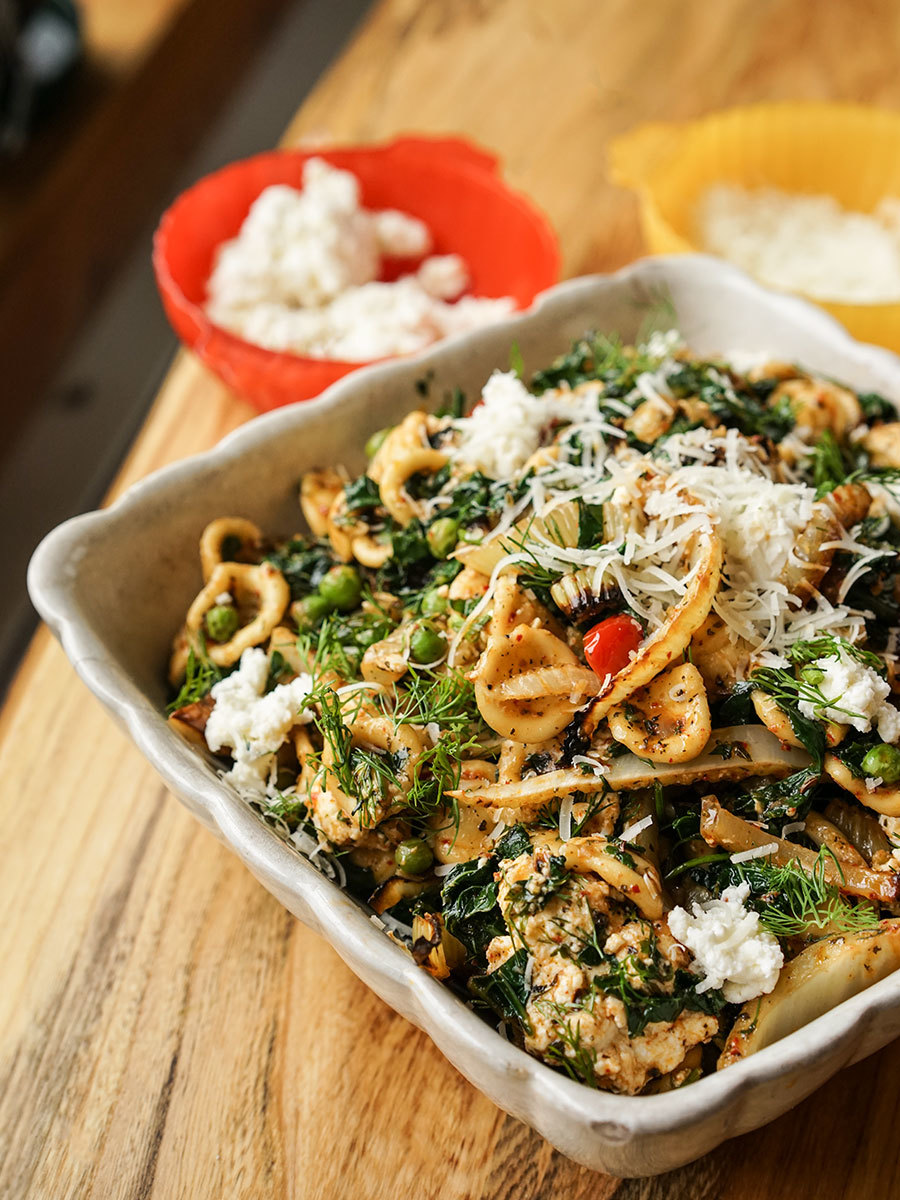 This recipe (which has twice as many vegetables as pasta!) is perfect when using leftover, cooked pasta. To add a little punch to these winter vegetables, we were inspired by Tunisian flavours; we added some coriander, a touch of pepper and caraway, all compulsory ingredients when making famous Tunisian harissa.
Ingredients
2 large fennel bulbs  
4 Tbsp olive oil  
1 Tbsp whole caraway seeds 
1 Tbsp coriander, ground  
Salt and pepper to taste
250g short pasta (orecchiette, for example)
1 pack kale
½ box cherry tomatoes 
1 cup thawed green peas
12 garlic cloves
¼ cup olive oil
1-3 Tbsp Korean pepper or Gorria pepper, to taste
2 Tbsp dry mint
½ lb fresh ricotta
½ cup grated pecorino romano
Method
1

Heat oven to 475 °F.


2

Trim tough fennel stems and set aside delicate green leaves.


3

Cut fennel bulbs into ½-inch thick slices. Place on a bake sheet, sprinkle 4 Tbsp olive oil. Add ground coriander and caraway seeds. Salt and pepper to taste. Mix and spread on the bake sheet. Place in oven and cook for 20 to 25 minutes, until fennel is tender and a slightly caramelized. Set aside.


4

Meanwhile, cook pasta following instructions on package. Cool in cold water when almost cooked. Drain then set aside.



5

Wash and tear kale leaves into small pieces, removing the main stem. Wash well and spin dry.


Cut tomatoes in two. Rinse green peas and drain.



6

Slice garlic into slivers. Place in a large pot or wok with ¼ cup olive oil.  Heat on medium heat 2 to 3 minutes, stirring continuously until garlic becomes golden and the oil well infused. Add korean pepper and mix a few seconds, then incorporate torn kale leaves. Increase heat and cook a few more minutes, until kale is tender. Add fennel and green peas. Cook another 2 or 3 minutes, then incorporate pasta, tomatoes and mint. Continue mixing until very hot. Add fennel leaves, then only half the ricotta and percorino.

7

Place on a dish and garnish with remaining ricotta and pecorino. Serve immediately.