Feta Fennel Chicken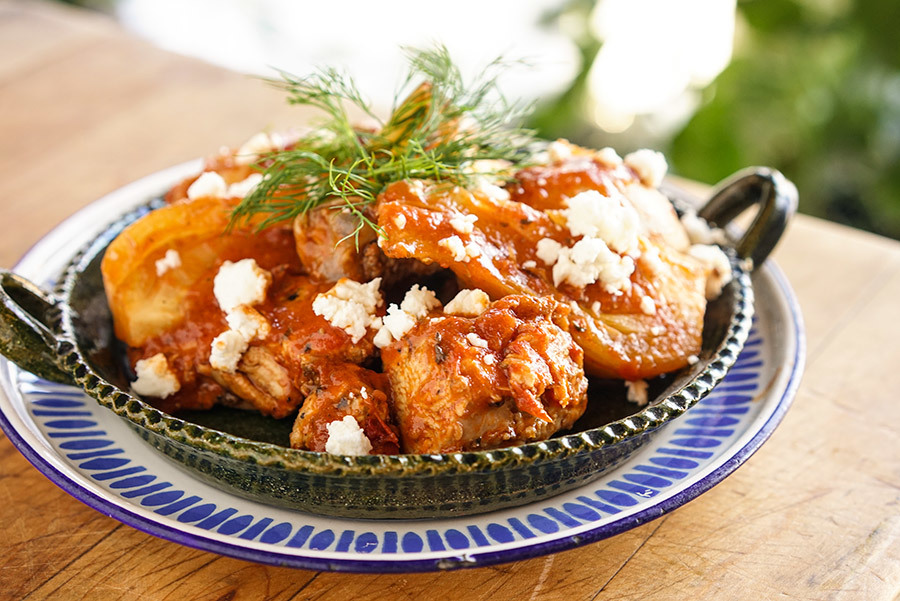 A rustic recipe, in the spirit of Greek island cooking, in which feta brine is used to enhance the sauce. The freshness of the dill and mastic (if you want to add it) balance the intensity of the brine.
Ingredients
1 chicken, chopped into large pieces
1½ Tbsp Dionysios Herbs
½ tsp salt
1 Tbsp black pepper, ground
3 medium onions
2 fennel bulbs
¼ cup olive oil
4 cloves garlic, chopped
½ cup feta brine
4 Tbsp tomato paste
1 small glass white wine or water
2-3 mastic tears, ground (opt.)
2 cups tomatoes, crushed
¾ cup feta cheese, crumbled
1 cup dill, chopped
2 cloves garlic, chopped
Method
1

Place chicken in a bowl and season with herbs, salt, and pepper.

2

Cut onions and fennel into sixths. Set fennel leaves aside.

3

Heat a large pot on medium and add olive oil. Sauté vegetables 10-12 minutes until tender and lightly colored.

4

Remove onions and fennel from the pot with a slotted spoon, leaving as much oil in the pot as possible. Add chicken pieces and brown lightly on all sides.

5

Add garlic, feta brine, tomato paste and mastic. Stir while scraping the bottom of the pot to deglaze.

6

Add wine and tomatoes and simmer for 15 minutes on medium-low. Return vegetables to the pot and cook 15-20 minutes more. The chicken should be cooked and the sauce thickened.

7

Let rest a few minutes off heat before adding feta, dill, chopped garlic, and fennel leaves.