Fettucini with tuna and green peppercorns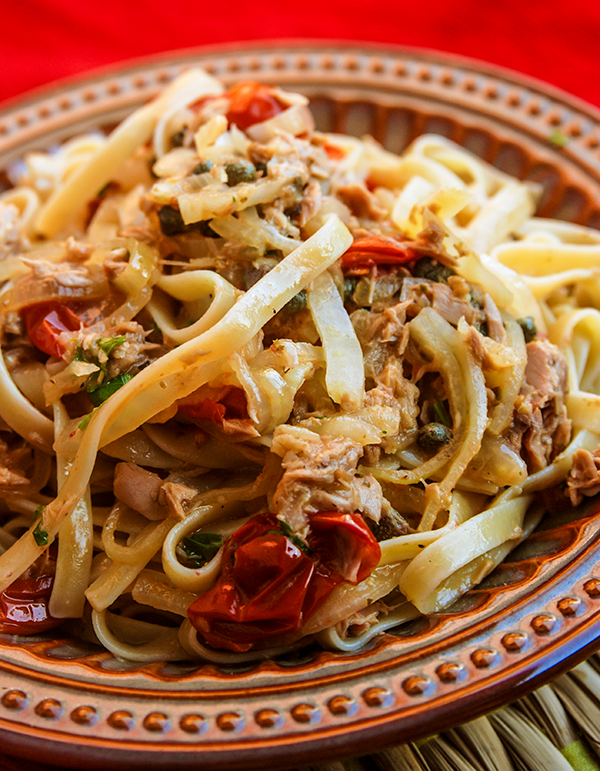 The perfect recipe for a quick dinner. Make the sauce while boiling the pasta! If you don't have fennel, substitute with three celery sticks.
Ingredients
250 gr fettucini
1 medium onion, thinly sliced
¼ fennel bulb, thinly sliced
½ cup olive oil
4 Tbsp Tribal green pepper or 1 Tbsp black pepper, cracked
1 tsp rosemary, finely chopped
3 Italian tomatoes or 1 cup of canned tomatoes
1 can of Italian tuna in olive oil
1 glass of white wine
6 Tbsp capers, rinsed
¼ cup parsley, chopped (opt)
1 garlic clove, grated
2 oz parmesan, grated
Method
1

Heat olive oil in a pot on medium heat.

2

Add the onion, fennel, pepper and rosemary. Cook stirring occasionally until the vegetables are translucent (5 minutes).

3

Add wine and the oil from the can of tuna. Cook for 2-3 minutes.

4

Add the crushed tomatoes and cook for 2 more minutes, set aside. Incorporate the tuna and capers.

5

Meanwhile, cook the fettucini in boiling, salted water. Drain 1 minute before they become aldente. Set aside ½ cup of pasta water.

6

Place the pasta in the pot, add the sauce and cook for 1 more minute, stirring constantly. Add the pasta water if necessary.

7

Remove from heat. Add the parsley, garlic and parmesan. Mix well and serve immediately.