Pork Tenderloin with Dates and Red Wine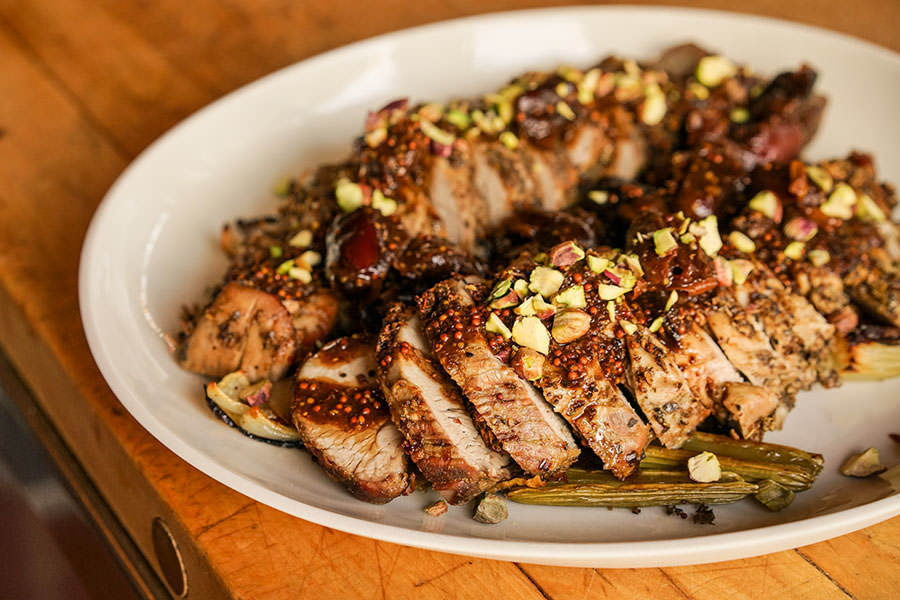 This recipe is inspired by classical Roman cuisine. You can use whatever dried fruit you like.
Ingredients
2 pork tenderloins
1 tsp cumin
1 tsp fennel seed
1 tsp oregano
½ tsp long pepper
1 tsp salt
2 cloves garlic, chopped
4 Tbsp clarified butter or olive oil
2 medium onions
3 stalks celery
1 tsp honey
4 Tbsp balsamic vinegar
½ cup chicken or meat stock
½ cup red wine
20 dates, pitted
2 Tbsp whole grain mustard
2 Tbsp pistachios, chopped
Method
1

Wash pork in cold water. Dry thoroughly with a paper towel. Preheat oven to 325°F.

2

Put spices in a mortar and grind to a rough powder. Add salt and garlic and pound to a paste, then incorporate half the clarified butter.

3

Rub spice paste over pork. Chop onions and celery into large pieces. Place meat, onions and celery on a roasting pan, spaced so they do not touch. Sprinkle with remaining clarified butter. Roast for around 1½ hours.

4

Remove roasting pan from oven. Place meat and vegetables on a plate. Put roasting pan on the stove on medium heat. Add honey, balsamic vinegar, stock, wine and dates. Deglaze the roasting pan by scraping it with a spatula and reducing the juice a little.

5

Meanwhile, slice the tenderloin and lay on the plate with the vegetables. Incorporate mustard into the sauce. Pour the sauce on the pork and vegetables and garnish with the chopped pistachios. Serve with whole grain mustard if you like.