Mackerel Filets with Almonds and Raisins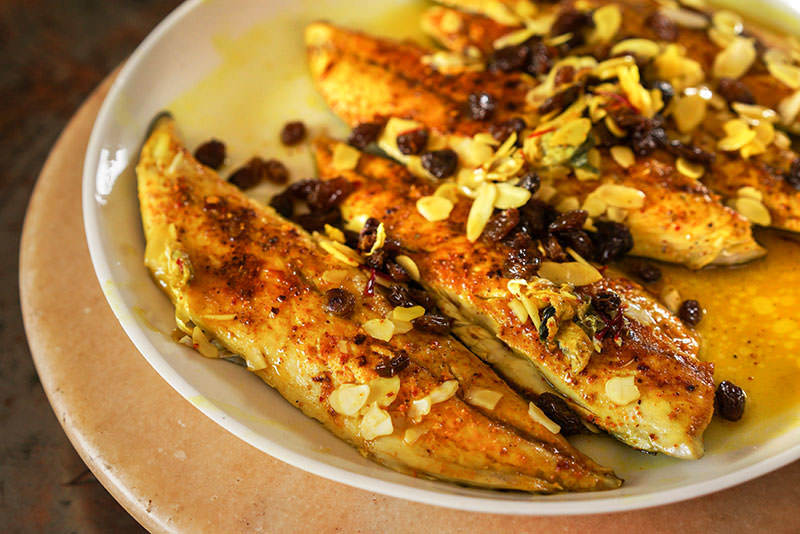 This mackerel recipe is ready in minutes. Just add a side of rice or salad and dinner is on the table!
Ingredients
5 fresh mackerel filets
2 tsp salt
1 pinch saffron (opt.)
2 Tbsp coconut oil
4 Tbsp raisins
½ cup white vermouth
2 Tbsp almonds, sliced or chopped
1 splash olive oil
Method
1

Rinse the filets in running water and dry them well with paper towels.

2

Spread 1 tsp salt on a plate. Place the filets, skin side down, on the plate. Sprinkle the remaining salt on the exposed side of the filets, then sprinkle the spices on.

3

Place the saffron in a small cup and pour 2 Tbsp of boiling water over it.

4

Heat a pan large enough to hold all the filets on high heat.

5

Add the oil, then add the filets, skin side down. Cook for 3 minutes and flip the filets.

6

Scatter the raisins around the filets. When they begin to swell, pour the vermouth and saffron into the pan.

7

Remove from heat. Spread the almonds on the fish and let rest another 2 minutes to finish cooking.

8

Serve the mackerels with a splash of olive oil.