Fine Herbs Scallop Aguachile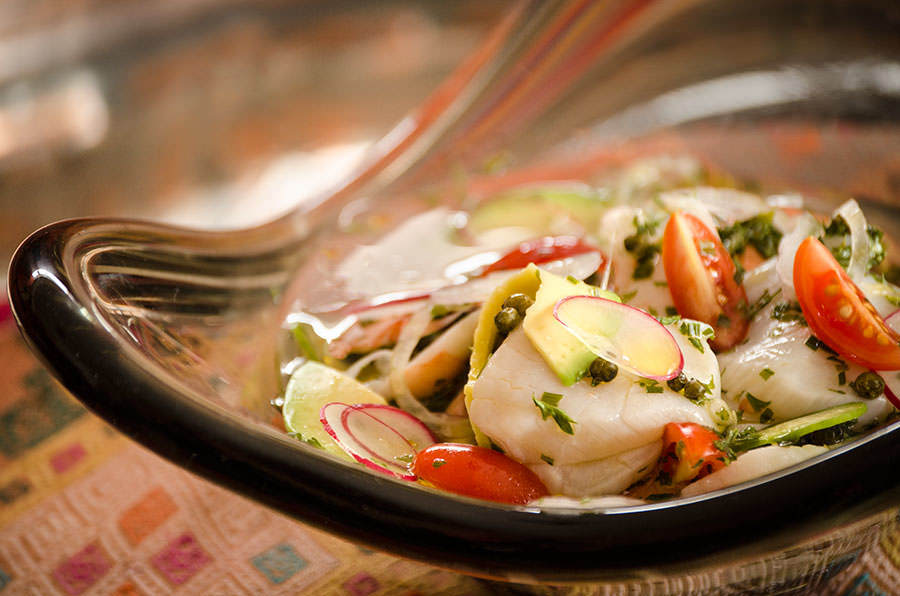 An aguachile is a cross between a ceviche and a cooked seafood gazpacho. It is a very refreshing Mexican appetizer that consists of chiles, lime juice and raw vegetables such as tomatoes, avocados, onions and cilantro.
Here is a recipe of scallop aguachile that is half Loire Valley and half Yucatan!
Scallop Aguachile
½ lb fresh scallops, thinly sliced
½ lb cooked shrimp
1 cup Muscadet or other very dry white wine
4 Tbsp Yuzu juice or half lemon juice and half clementine juice
6-8 medium ice cubes
1 Tbsp Green Peppercorns
Garnish
1 small, very ripe tomatoes
1 small avocado, sliced
1 dry shallot, thinly sliced
1 very small cucumber, thinly sliced
2 radishes, very thinly sliced
3 Tbsp classic fines herbes
Salt 
Fruity olive oil
Method
1

Mix scallops, shrimp, wine, yuzu juice, ice cubes and peppercorns in a bowl.

2

Refrigerate for a least 1 hour (but no longer that 3 hours), so that the acidity of the wine and citrus ''cook'' scallops without toughening them.

3

Remove bowl from the refrigerator and gently incorporate vegetable garnish. Salt to taste and place in chilled glasses.

4

Drizzle olive oil in each and serve immediately.