Fish Filets with sesame and Korean Pepper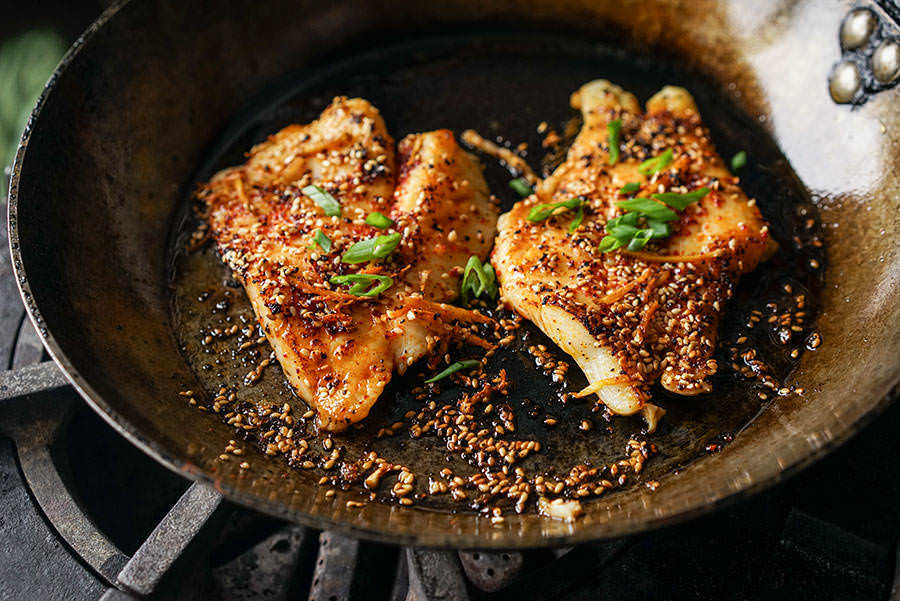 You'd be hard pressed to find a faster, tastier recipe than this fish with Korean pepper. Drying the fish with a paper towel then salting it ahead of time makes it much firmer.
Ingredients
2 white fish filets
1 tsp salt
2 Tbsp Korean pepper
2 Tbsp sesame seeds
2 Tbsp vegetable oil or ghee
2 Tbsp ginger, julienned
Juice of ½ lemon
2 Tbsp white wine or vermouth
Method
1

Rinse filets in running water and pat dry with a paper towel.

2

Salt filets and lay a paper towel on top. Let rest 15 minutes.

3

Sprinkle sesame seeds and pepper on the filets. Gently press them down with the tips of your fingers to ensure the spices stick.

4

Heat a pan on medium and add oil.

5

Sprinkle ginger strips in the pan and add the fish, spice-side up. Cook for 3 minutes then flip.

6

Immediately add lemon juice and white wine. Remove pan from heat but let fish rest 2 minutes, in the pan, to finish cooking.

7

Garnish with chive and serve.