Fish Soup with Tahini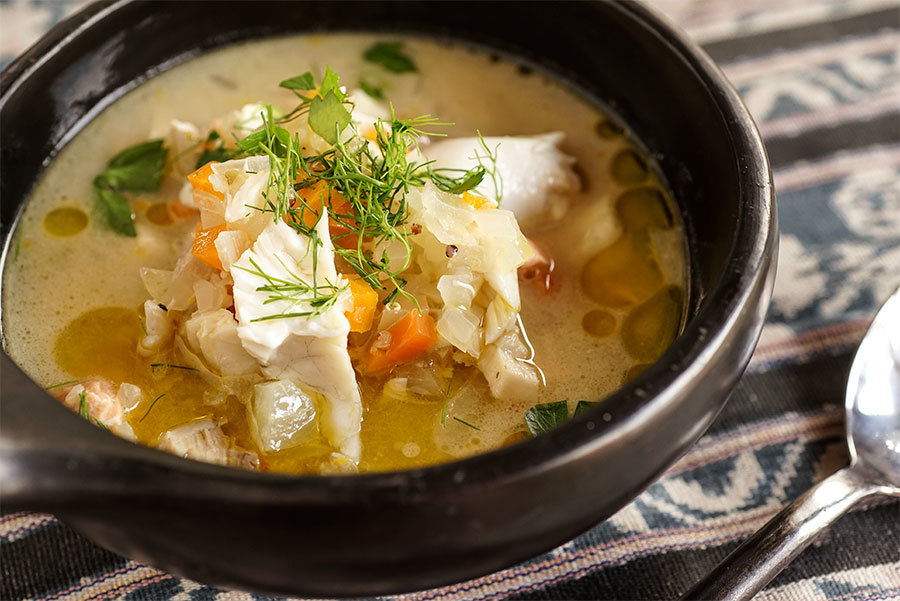 We prefer to use whole fish for this soup, but you can also use fish filets. It will, however, result in a less flavorful bouillon. The choice of fish can vary according to the catch.
Ingredients
2 lbs whole fish, cleaned and scaled
8 cups cold water
1 handful parsley stems
1 handful fennel stems
1 tsp pepper
½ tsp fennel seed
1 tsp thyme
4 Tbsp quinoa
2 carrots
1 fennel bulb
2 onions
4 cloves garlic, chopped
½ cup tahini
4 cloves garlic, grated fine
Salt and pepper to taste
2 lemons
4 Tbsp olive oil
Fennel leaves for garnish
Method
1

Rinse fish in running water. Place in a large pot with water, parsley and fennel stems. Bring to a boil, the reduce heat. Simmer on low until the fish is cooked, 15-20 minutes.

2

Meanwhile, grind spices and dice vegetables.

3

Remove fish and stems when fish is cooked. Add quinoa to the pot and cook for 10 minutes, then add vegetables and ground spices. Cook for 10 minutes more.

4

Shred fish meat with two forks and set aside. Place tahini and grated garlic in a bowl and incorporate enough bouillon with a whisk to make a creamy liquid.

5

Incorporate the tahini mixture to soup and remove from heat. Salt and pepper to taste. Add the shredded fish meat. Grate lemon zest and juice 2 lemons. Add to the soup with olive oil. Stir well and garnish with fennel leaves.