Fish Tajine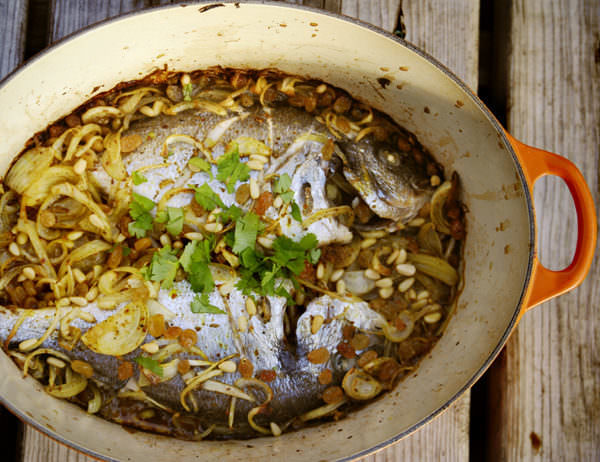 This recipe can easily be made with boneless fish filets, which would make the dish easier to eat. On the other hand, whole or sliced fish make for a much more succulent sauce.
Ingrédients
4 Snappers or similar fish 12oz (325g) each or 1kg firm fish filet or fish slices
6 large onions, sliced
½ cup raisins
4 Tbsp pine nuts
1 ½ Tbsp Tajine spices, ground
½ cup olive oil
1 Tbsp fresh ginger, chopped
1 tsp lemon pepper blend, ground
Salt to taste
Parsley, cilantro or basil, for garnish
Method
1

Have your fish monger clean and scale your fish.

2

Pre-heat oven to 350ºF (175ºC).

3

Wash fish well and pat dry using a paper towel.

4

Put all remaining ingredients in a bowl and mix well.

5

Place half the onions in a large, cast iron pot.

6

Place the fish on top. Put some of the onions into the cavity of each fish and cover the fish with the remaining onions.

7

Put the un-covered cast iron pot in the oven and cook until the fish has cooked in its' juices (30 to 40 minutes).

8

Remove from the oven and let rest for 15 minutes before serving. Garnish with fresh herbs at the last minute.