Five spice white cut chicken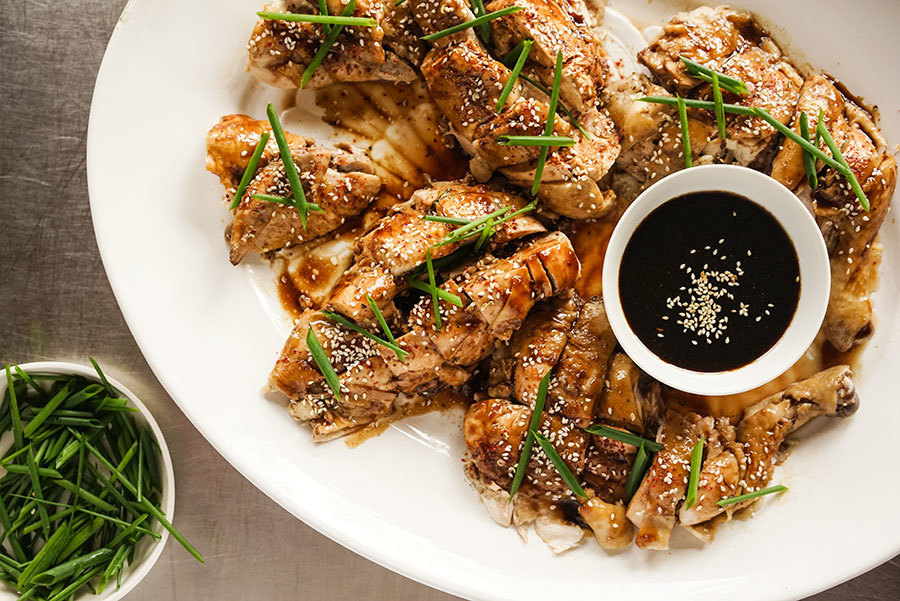 Poached chicken is a Chinese dish that is served cold, often as is, or with an accompanying dip. We like brushing the pieces of chicken with the dip before serving, it's adds to its delicious flavour. 
Chicken
1 chicken, 3-4 lbs
2 Tbsp Chinese Five Spices
1 Tbsp sea salt 
3 green shallots 
2 - inch ginger, sliced 
¼ cup Rice wine or Xérès
Dip
⅓ cup Soya sauce
⅓ cup Oyster sauce 
2 Tbsp Hoisin sauce 
3 Tbsp ginger, grated 
1 Tbsp sesame oil  
Garnishes
Method
1

Boil 12 cups of water in a pan large enough to accommodate the chicken.

2

Grind half the Five Spices blend with the salt to make a coarse powder. Rub on the chicken and let it rest on the counter during the time that the water boils.

3

Add 3 shallots, ginger and the remaining Five Spices blend to the pan. Heat in a rolling boil for 10 minutes.

4

Put the chicken in the pan. Let rest for 2 minutes then remove using a skimmer.

5

Bring the water to a boil once again and put the chicken in the pan. Bring to a boil, cover and lower the heat to minimum. Let cook for 15 minutes.

6

Turn over the chicken, cover then turn off the heat.

7

Let rest for 20 minutes more. Remove the chicken with the skimmer. Drain well before placing on a plate.

8

Pour rice wine on the chicken. Using a spoon, scoop the wine that accumulates at the bottom of the plate and sprinkle on the chicken.  The alcohol evaporates then quickly cools the chicken, adding to its aroma. Let cool for 15 minutes. The chicken is at its best when left at room temperature. 

9

Thoroughly mix all the dip ingredients in a bowl.

10

Grill sesame seeds and set aside in a bowl.

11

Grill the Sechuan peppercorns for a few seconds so they become more flavourful. Pour into a mortar and grind coarsely.

12

Chop the chives.

13

Using a large, sharp knife, cut the chicken into bite size pieces and arrange attractively on a large dish. The skin of the chicken should be cooked and the bones pink at the center.

14

Using a brush, apply some dip to each piece. Garnish with chives, grilled sesame, Sechuan peppercorns and Korean pepper.

15

Serve with the remaining dip.